The Samsung Galaxy S8 and S8 Plus are among the most beautiful and powerful smartphones that you can buy today.
The Samsung Galaxy S8 and S8 Plus are among the most beautiful and powerful smartphones that you can buy today. If you are considering the option of purchasing one of Samsung's latest flagships, you need to know all the advantages and disadvantages, as these phones are all but cheap. That is exactly what we are going to talk about here.
The difference between Galaxy S8 and S8 Plus is the size. Dimensions of Galaxy S8 are 149 x 68.1 x 8 millimeters, and S8 Plus 159.5 x 73.4 x 8.1 millimeters. When it comes to design and features, these phones are practically identical. So, if you are a fan of bigger phones, go for S8 Plus.
These smartphones are awesome in many ways, but there are some things that could have been done better. Without further ado, let's see the advantages and disadvantages of Samsung Galaxy S8 and S8 Plus.
See also: First 10 Things To Do On Samsung Galaxy S8
Advantages of Samsung Galaxy S8 and S8 Plus
First, we are going to list the advantages of Samsung Galaxy S8 and S8 Plus.
Fantastic Design
As we have mentioned at the beginning, Galaxy S8 and S8 Plus are among the most beautiful phones. The phones look amazing and they are sleek all around. We are used to the great design from Samsung, and this time, as always, the company did a fantastic job. The phones have a big beautiful display, and the size of the display didn't ruin the design as the phones are not too big and bulky. On the contrary, all is packed nicely and with style.
The phone feels comfortable to hold. You can choose between two sizes and a few color options. If you want to own a stylish and simply beautiful phone that has all the features you need, one of these may be a perfect choice for you.
Excellent display
The top-notch display really makes a difference. If you want the phone that comes with a great display, Samsung Galaxy S8 is the phone to buy. It comes with so-called "Infinity display" that as the company says, sets a new standard for immersive experiences. The 5.8-inch AMOLED display is bright, sharp and simply amazing. It also offers fantastic contrast.
Out of the box, the resolution is not set to its best QHD+, 2960 x 1440 pixels. You will have to do it on its own. In order to change screen resolution that is set by default, just go to Settings > Display > Screen resolution. Once you make the changes, you will notice the difference you will get a fantastic experience. It is considered to be the best display you can find on a smartphone today.
Top-notch hardware and specification
As always, Samsung flagships came with excellent hardware and specification in general. The phones have a Qualcomm Snapdragon 835 chipset (in the United States), and Samsung Exynos 8895 (in Europe and Asia). What else? The 4 GB RAM, and 64 GB internal storage. When it comes to internal storage, if you find 64 GB not enough, you can expand it up to 256 GB.
The flagships have the latest Bluetooth 5.0 and WiGiG. There is also GIGABIT LTE that allows much faster browsing and enables some new services. The phones run Android 7.0 Nougat that comes with many awesome new features. They also have wireless charging option. All this makes Samsung Galaxy S8 and S8 Plus some of the best smartphones you can buy at the moment.
Great camera
One of the most important things is the camera, and Samsung has every reason to boast with the one on S8 and S8 Plus. Don't let the number of megapixels fool you. You may think it is not enough, but when it comes to the camera, it is not about the numbers, it is about the quality.
The flagships have 12 MP camera with f 1.7 aperture and 8 MP front camera also with f 1.7 aperture. There is 8x digital zoom, multi-frame image processing, pro mode and more. You will create many awesome photos and videos – you can count on the exceptional experience.
Features and security
The Samsung Galaxy S8 and S8 Plus come with so many awesome features. You can enable and disable them according to your needs and desires, such as Always on display, One-handed mode, Blue light filter, and more. All these features make the experience enjoyable and fun.
When it comes to security, S8 is a great choice. You can unlock your device in many ways, including the fingerprint and Iris scanner.If you want to make sure all your files, photos, and other things you don't want to share with others are protected, you can set up a Secure folder. All these things make S8 and S8 Plus worth having.
Water Resistant
Among many other cool things these phones have, we have to mention the fact they are water resistant. They are also dust resistant. The phones come with the IP68 rating. The IP stands for the International Protection Marking, and the digits show the resistance to dust and water. The first digit is for dust and the second one is for water. For example, iPhone 7 is IP67 certified. So, in terms of dust resistance, iPhone 7 and Galaxy S8 are the same. In terms of water resistance, Samsung S8 wins. It can be in the up to 1.5m deep water for 30 minutes.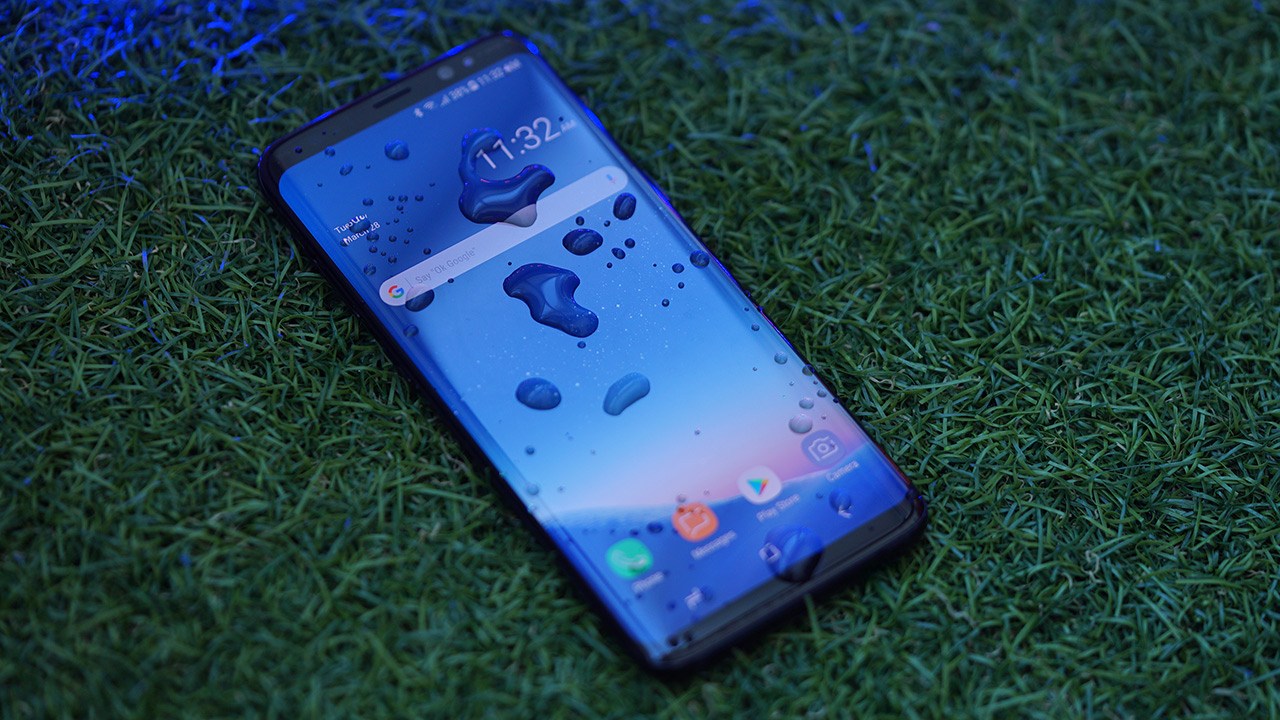 Disadvantages of Samsung Galaxy S8 and S8 Plus
Now, let's move to the things that could have been done better. Here are the disadvantages of Samsung Galaxy S8 and S8 Plus.
Battery
The Samsung Galaxy S8 comes with 3000 mAh battery, and S8 Plus comes with 3500 mAh battery. The question is, can this be enough for such a powerful phone? The way you use your phone has a huge impact on the battery life. If you play games, surf the web all day long, you can't except that the battery will last as long. In other words, if you are a power user, you will have to charge the phone more often.
There are many things you can do in order to improve the battery life on Samsung Galaxy S8. Still, Samsung could do this better. But, don't worry too much, as S8 comes with fast charging. And yes, it does charge really fast.
Fingerprint reader position
When speaking of Samsung Galaxy S8 cons, we have to mention fingerprint reader position. It is pretty weird. Samsung decided to place fingerprint reader right next to the phone's rear camera. You will find that fingerprint reader is hard to reach.
Manufacturers usually place the fingerprint below the camera module, not next to it. However, Samsung decided to do things differently, and many users are not happy about this decision. It is mainly because they place their finger on the camera, thinking it is the fingerprint reader.
Bloatware
Clutter on the phone is something no one enjoys in. Both, Samsung Galaxy S8 and S8 Plus come with a ton of bloatware. While some of the pre-installed apps can be useful, many others are just a waste of space. It seems like junk software is everywhere. There are Samsung apps that most of the people simply don't use. In addition to this, you can expect to see many pre-installed apps by the carrier.
You can either remove or disable the bloatware on Galaxy S8. It depends on the app in question. But, we can all agree such apps are nothing but the waste of space. Plus, they can run in the background and have the impact on the battery life.
Conclusion
We have listed the pros and cons of Galaxy S8 and Galaxy S8 Plus. If you decide to buy one of these models you can't go wrong. Yes, they are pricey, but beauty and quality are never cheap. Even though there are some disadvantages, these phones are almost perfect. We are sure you will enjoy using it!
---