Samsung Galaxy Fold is a futuristic design in the world of smartphones. The manufacturer took its chance by
Samsung Galaxy Fold is a futuristic design in the world of smartphones. The manufacturer took its chance by introducing a phone that you can fold to make it smaller or unfold to have an exceptionally large screen for your media consumption or browsing. The best Samsung Galaxy Fold cases are a bit tricky to execute because of this foldable design, yet lots of major brands have managed to offer unique solutions to safeguard your $2000 phone in a cozy case.
With very few models available right now, the main option is to go for a case that works best as a storage solution. You can simply buy pouches that fit the Samsung Galaxy Fold phone or go with a case that is specifically made for this device. Either way, the choice is yours because there are cases made using leather materials, cloth materials, and rubber-based materials. These are yours to pick based on what feels the best to handle and how it protects the phone.
See also: Best Samsung Note 10 cases 
Best Samsung Galaxy Fold Cases
Best Branded Case with a Thin Fit
Spigen Thin Fit Galaxy Fold Case Matte Black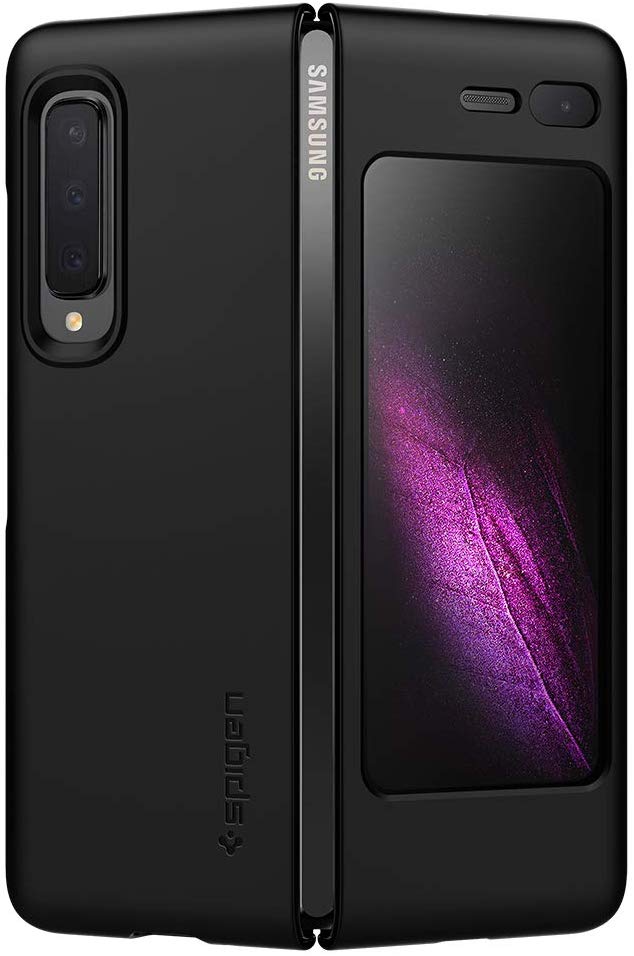 Spigen is a brand name that is popular among smartphone owners. The company continues to deliver amazing cases for all flagship smartphones and it does not come as a surprise that they have managed to make one for the unique Galaxy Fold case too. The newly launched case is available in multiple colors including blue, green, satin silver, and matte black. The case falls under the thin category making it easy to hold the phone with one hand.
The major advantage of using this case is that it helps protect your expensive phone against accidental scratches. The buttons are all delivered in an open status so that you can directly get the feeling every time you touch the volume or the power buttons. All these additions help users get the original experience of using the phone while protecting it on all corners and the sides.
The rubber design of the case is easy to wrap on the phone and remove when it is not needed. It is slim, flexible and has a nice texture that feels good every time you hold the phone. Spigen has ensured that the newest case is perfectly designed to fit the Fold phone and they have a great track record of making such cases for most flagship phones of the past. It is a cost-effective and trusted solution that you can go for, providing protection but without adding any fancy productivity features.
What Makes the Spigen Thin Fit Galaxy Fold Case a Perfect Choice?
The case is available in multiple colors so that you can easily make your pick.
It is slim and easy to wrap on to the Fold phone.
Who Should Buy This?
Samsung Fold owners who want a simple yet protective case.
The case doesn't add any bulk and is for those who want a solution that keeps their device as stylish as it looks originally.
See it on Amazon 
A Clear Case to Showcase your Phone's Original Design
Spigen Ultra Hybrid Crystal Clear Case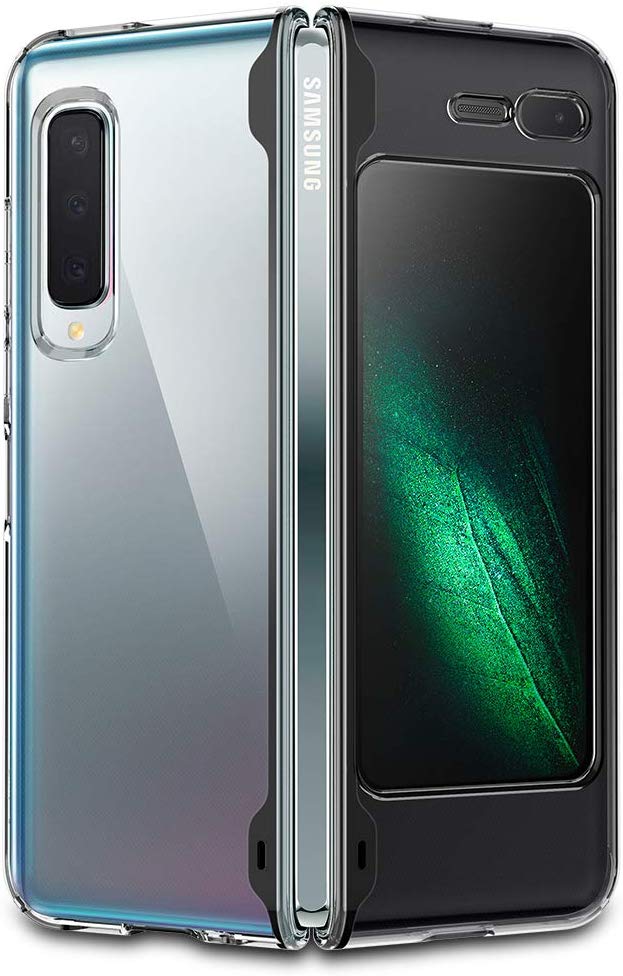 A clear case is ideal for users who love to showcase the original design of their smartphone. The Spigen case is a clear design, yet sturdy. The company claims that they have made it using a hybrid technology that safeguards your phone against accidental drops and any scratches that might occur. The cutouts are precisely placed so that all the ports and the buttons are easily accessible.
One of the best aspects of the phone is the large display that you can unfold to view to its maximum potential. However, it also creates a lot of discomfort because people are usually scared to use such an expensive phone without a case. The Spigen product gets rid of their problem in the most efficient way by making just a case and not adding any wallets or additional features as is usually done on other cases.
Designed precisely for the product, the best Samsung Galaxy Fold cases are usually made by widely recognized brands and manufacturers. Spigen is one among them which is evident in the quality of the product delivered by them. The bezels are all raised to protect the camera bump and the sensors hidden in the same area. The buttons are easily accessible and your phone's color and the design are clearly visible.
What Makes the Spigen Ultra Hybrid Crystal Clear Case a Cool Pick?
The ability to showcase your phone's original color, design, and the display makes it a stylish choice.
It is a sturdy case with all the right cutouts including one for the cable.
Who Should Buy This?
Users who love to expose their phone's design and not cover it up with leather or rubber cases.
Those who enjoy the feel of the TPU material used in this case.
See it on Amazon 
Leather Case to Safeguard Your Foldable Phone
Universal Holster for Galaxy Fold Idea Line Case
There are so many leather holsters of different sizes that you can buy in the market but what Idea Line offers is quite different and is also designed to precisely fit the Samsung Galaxy Fold phone. After all, the phone is definitely a fragile product that would benefit from a full case to protect it from problems like dirt, water, and accidental bumps on hard surfaces.
The leather material has been around all kinds of products for a very long time because they offer a sense of sophisticated luxury and an elite finish to the product. While some smartphones do have interchangeable leather cases, most users have to go with third-party solutions to get that feel. The Galaxy Fold users, however, have very limited choices and this case is a good one among that.
The manufacturer claims that they have used an innovative design which makes it easier to simply put the phone inside and take it out without having to rely on any tools. The magnetic clasp is firm and safely secures the expensive phone in the best way possible. You can simply clutch your smartphone in your hand when using it and enjoy the convenience of holding it without any case material covering it.
What Makes the Idea Line Universal Holster Ideal for Galaxy Fold?
You can always use your phone in its original design without using a case on top of it.
The leather material feels exquisite and luxurious to use.
Who Should Buy This?
Those who need a sophisticated looking phone case. A bookcase like style gives a very sophisticated look for this unique phone.
Users who love leather material combined with an all-purpose holster that they can use in the different scenarios will find this product handy.
See it on Amazon 
Vertical Phone Case with Credit Card Storage Space
Hedocell Vertical Leather Pouch Phone Case with Credit Card Storage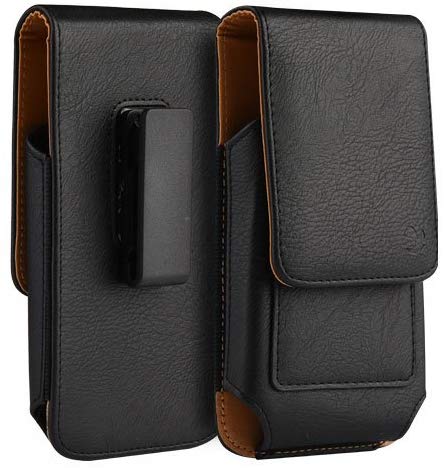 Originally designed for phones of different sizes, Hedocell promotes this case as a perfect fit for Samsung Galaxy Fold and it does fit in every way possible. There are no unwanted or excess space inside the case because your slim, foldable phone will seamlessly slide into it. Everything about the holster is made to perfection as it features meticulously done stitches on all sides that give it a strong handmade finish.
The best Samsung Galaxy Fold cases usually come in all kinds of shapes and are made of varying materials. Among all of them, leather cases always stand out because of their exquisite design and great feel when you hold them in your hands. The built-in belt clip can swivel so that you can comfortably adjust the position of the holster on your belt strap.
Not many users would prefer to keep their phone case strapped to their belt and you can choose to keep it in your hand or on the table when not in use. The interior area in this product is coated with soft materials that safeguard the phone against any kind of scratches. It is cushioned to absorb any sudden bump. Overall, this is an all-rounder case that also allows you to keep a couple of credit cards.
What Makes the Hedocell Vertical Leather Pouch Phone Case a Useful Accessory?
The case is compact and easy to carry around.
It comes with a credit card storage area and not many such models have this feature.
Who Should Buy This?
Users who like to go out regularly while only carrying their phones and not a wallet will find this case useful.
The vertical design is easy to hold and encloses the phone completely.
See it on Amazon 
Turn Your Wallet into a Smartphone Case
Newyork Cellphone Horizontal Black Leather Wallet Case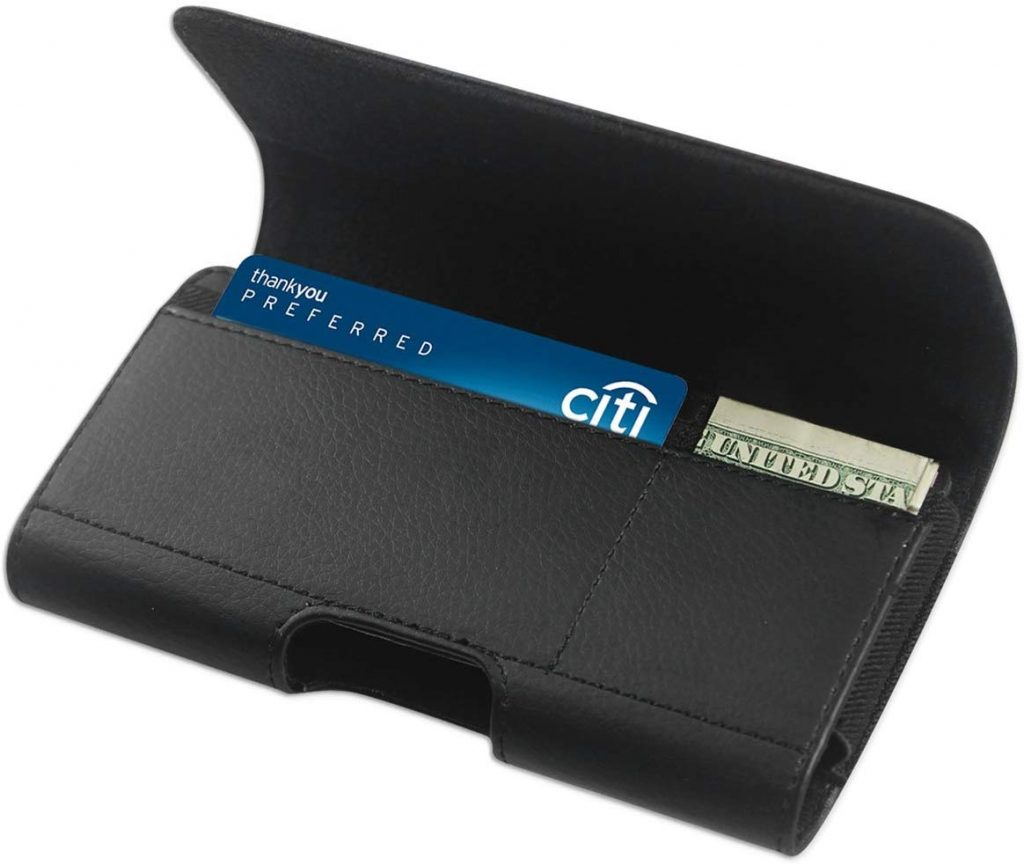 The wallet has been conveniently turned into a fun case that you could use to store your Samsung Galaxy Fold phone. Considering the fact that there aren't too many companies that offer cases made specifically for the phone and the Spigen ones are limited in materials, this should be a perfect way to enjoy your new purchase. You can also protect your phone against scratches and bumps.
Originally designed to be a wallet case, it has its advantages because there is plenty of space in the front for your cash, credit cards, and other items. You just have to throw your Fold into space and you are good to go. The case is made of pure leather material which is amazing to hold and the authenticity of the product provides an exquisite feel like no other case available.
Apart from being a great way to get rid of your wallet because you can store your cards and a little bit of cash inside the same case, it can also be strapped onto your belt using the belt clip. The phone is kept secure with the top closure that makes use of a magnetic lock. The Galaxy Fold can be kept inside this case without having to remove any additional cover you might have on top of it.
What Makes the Newyork Cellphone Horizontal Black Leather Wallet Case Productive?
The case allows you to use it as an alternative to a wallet.
The size is about 6.6 inches long and is made using soft man-made leather material.
Who Should Buy This?
People looking to replace their wallets with a single phone-cum-wallet case.
Works with phone covers and has additional space for cash for those who really need them all to stay productive.
See it on Amazon 
Super Fit Compact Sleeve for the Galaxy Fold
fitBAG Jive Blue Custom-Tailored Sleeve for Samsung Galaxy Fold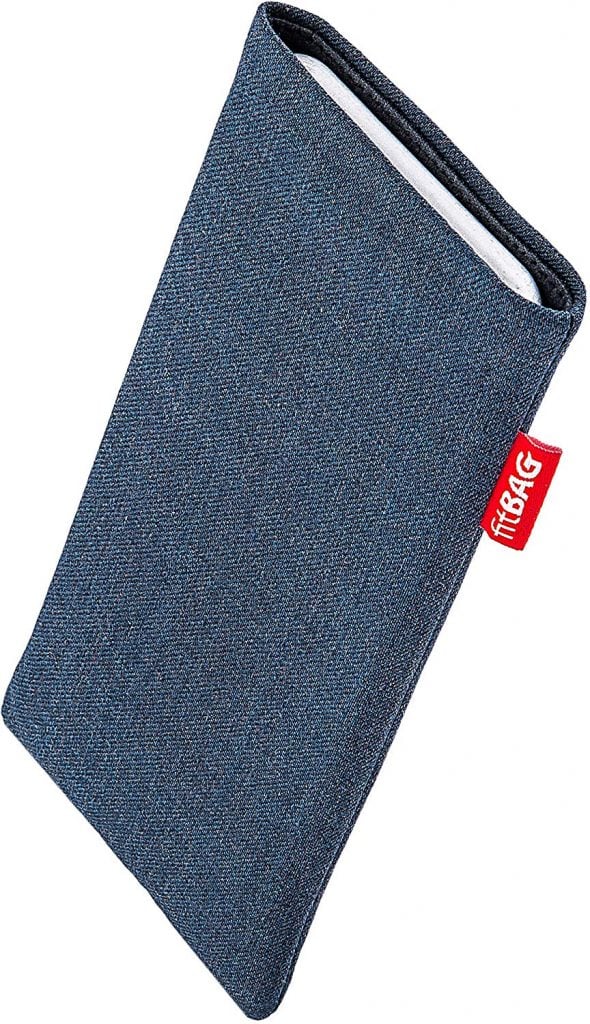 There are so many different ways to store your Fold phone. Among the top best Samsung Galaxy Fold cases available, this particular model is very unique and has the power to stand out from the crowd. Instead of using a leather pouch, you can opt for a cloth material that feels different to the touch and is much more comfortable. Besides, the color choices are plenty.
The manufacturer offers so many amazing color variants including brown, blue, green, black, and multi-colored pouches with patterns on top of them. The designs are quite varied as they range from Alcantara to the likes of a Zebra besides plain color choices. The product is made in Germany and is hand sewn so that it fits perfectly for the Samsung Galaxy Fold 5G edition.
To make the fit precise, make sure you remove any covers or cases you have used on your Fold phone. While a lot of cases and sleeves out there promise that you can slip in your phone without any difficulty, removing and using a fit case like this has its advantages. You get to use your expensive phone in its original glory while getting protection against scratches with the fitBAG case.
What Makes the fitBAG Jive Blue Custom-Tailored Sleeve for Samsung Galaxy Fold Solid?
The color choices are just too many to miss and they perfectly offer a design for every taste and need.
The cases fit your phone perfectly.
Who Should Buy This?
If you love cloth material, you will find this product to be very good. Its hand-sewn design is beautiful as well as durable.
The case is made in Germany and comes with a two-year warranty for buyers who like to invest their money in sturdy solutions.
See it on Amazon 
The Most Expensive Case for your Foldable Phone
Andantannerie Handmade Leather Galaxy Fold Case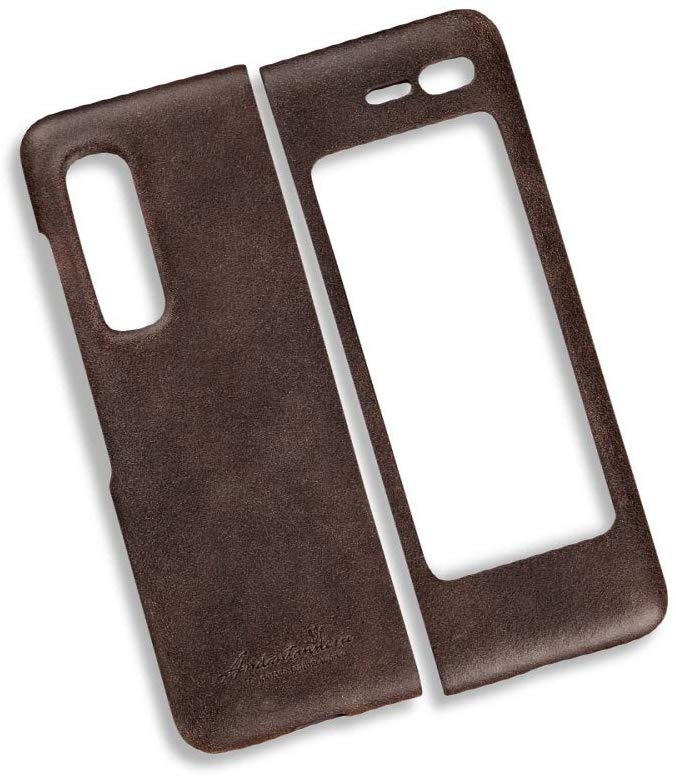 Once you have spent hundreds of dollars on a phone, it usually doesn't hurt to pay some more for a case to protect the device. However, in some instances such as this one, the Andantannerie Handmade Leather Galaxy Fold Case costs a hefty sum and it is up to the individual to make a decision. Similar to other cases in the list, this one finds its way as the best Samsung Galaxy Fold case to the top of the list, thanks to its build quality.
The manufacturer makes these cases meticulously and the choice of colors are very unique. They have a dark, grunge feel to it on almost every other color they provide. The choices available include dark brown, brown buttero, olmo brown, pueblo pink, olivia, and napoli yellow. These names are certainly unique and so are the colors that give a posh finish to your phone.
The Galaxy Fold is a premium phone and have opted for this product, you can also invest in an expensive yet solid case. The Andantannerie case is made of genuine cow-leather which may put off some people but for those who prefer it, it works well. The case can also be used to charge your phone wirelessly without having to remove it every time and when the phone is futuristic, these are all given features.
What Makes the Andantannerie Handmade Leather Galaxy Fold Case Stupendous?
The choice of colors is amazing and provides something for every taste.
The product is made using genuine cow-leather that lasts long.
Who Should Buy This?
Users who are looking for a genuine leather case.
If you prefer expensive cases that compliment your phone, this one will do.
See it on Amazon 
Bottomline
The best Samsung Galaxy Fold cases are limited in numbers because of the unique design of the phone. The case should allow you to open the phone and also flip it close, seamlessly. If you love to keep the phone and feel its original metal texture, use a wallet case that also doubles up as storage for your credit cards, etc. You can always go for a Spigen case for brand quality or opt for numerous leather wallet cases available online.
Spigen is possibly the biggest brand that has started making great cases for the Samsung Galaxy Fold phone. Many other manufacturers are yet to make their presence felt in this segment. We will update the list as and when new products launch from reputed brands.
---