Samsung is one of the leading companies for coming up with smartphone one after another and each one of them
Samsung is one of the leading companies for coming up with smartphone one after another and each one of them has improved features than the predecessor. Galaxy S5 is the latest smartphone launched by this company and this smartphone is packed with a large number of features and functionalities. Among many features, the factor that makes Samsung Galaxy S5 attractive is its super AMOLED display. The display size is 5.1 inch, power efficient and can truly surpass any display technologies that are used by the manufacturers. So easily one can adjust the properties as they want.
See also- How to use the multi window feature on Galaxy S5
5 Screen Modes Of Samsung Galaxy S5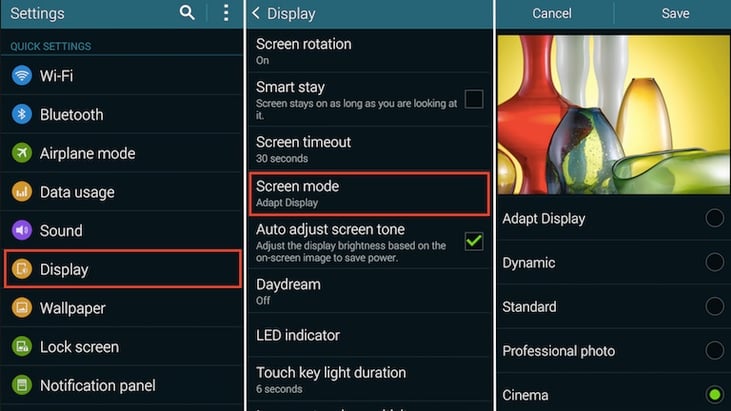 There are 5 different screen modes of Samsung Galaxy S5, and they are: Adapt Display, Standard, Dynamic, Cinema and Professional Photo.
You can access these modes going to Settings menu:
> Touch Apps icon from the Home screen.
> Tap Settings.
> Touch the Display icon.
> Hit Screen mode.
Adapt Display
Adapt Display is the default screen mode in Samsung Galaxy S5. The works that are performed by this screen mode are optimizing the saturation, sharpness of images, and color ranges when some selected apps such as Gallery, Google Play Books, Camera, Smart Remote, Internet and Video are used by the users.
Samsung said that for some downloaded apps this feature might not work, so if you want you can test it.
Adapt Display is one of the best screen modes of Samsung Galaxy S5 and it works best when there is high ambient light or you are in outdoor. The diffusion of the color will offset outdoor glowers and it often is reflected on the glass.
See also- 5 things Galaxy S5 owners need to know
Dynamic
Like Adaptive Display mode, it also gives colorful and bright images by optimizing the tone of the display. But the main difference between Dynamic mode and Adaptive Display mode is that this one works in any case, whether you are on any screen or inside an app.
The images will be looking good even if you are in outdoors or you are in a place where too much light is there. It is suggested to switch to other screen modes of Samsung Galaxy S5 when you are in an environment where the light is low because in such situation it could be little uncomfortable for you to look at the screen.
Standard
As the name suggests, everything such as saturation, sharpness and color range is quite standard when you switch to this mode. However, because of the Super AMOLED display used in this phone, the picture it projects may be better compare to smartphones with standard LCD screens.
The Adapt Display also uses the standard color saturation, though it changes when the phone detects that you are in one of those apps for which the mode is supposed to work.
Professional Photo
If you love to look at the pictures captured by DSLR camera, then you will find similarities between those photos and the pictures projected on screen when Professional Photo mode is on because this mode has the same saturation and color range. When this screen mode of Samsung Galaxy S5 is on, the screen displays accurate colors.
You can copy a photo that is captured by a DSLR camera to your Galaxy S5 and view it with Professional Photo mode on, and try to compare them.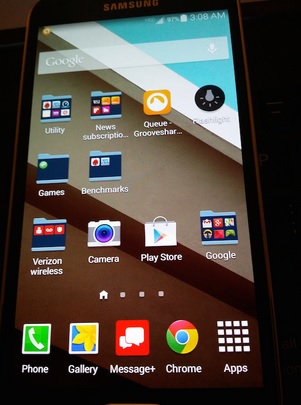 Cinema
Cinema is one of the best screen modes of Samsung Galaxy S5, and as per some experts, this mode makes the Galaxy S5 screen projects images with excellent colors.
Cinema mode is a perfect choice for watching movies, viewing photos and watching TV shows when you are in indoors or there is very low ambient light.
So which mode you want to set and when you want to switch to other screen mode, is completely your personal preference, color orientation depends on the comfortable to your eyes.
---