So you already got the latest 6.3-inch beast and are all set to use it? Samsung's Galaxy Note 8 is being raved
So you already got the latest 6.3-inch beast and are all set to use it? Samsung's Galaxy Note 8 is being raved about its remarkable features especially the S Pen. If you have the box in front of you and ready to grab the phone in your hand to explore its features then here is a quick guide the first 8 things to do on Galaxy Note 8.
Read also- How to Update Galaxy Note 8
Things to do on Galaxy Note 8
1.Considering you have charged your phone completely and switched on you will first need to place your SIM card and the microSD card for external storage. You don't want to run out of space while you use your phone. Look on the top of your Note 8 there is and you will find a small hole. Using the SIM injector pin or something equivalent to it that would go in the hole, insert it and take out the small tray that it ejected by your phone. You will find two spaces hold it carefully and in the smaller area place your SIM card and the bigger area is for the microSD card. Insert the small tray back in its place so now you will have expandable storage and your SIM card on the phone. The SIM card registers on the network automatically.
2. Next thing to do on Galaxy Note 8 is if you want to change the layout of the buttons on the Home screen you will have to head over to Settings > Display > Navigation Bar >Button Layout. The layout of the three buttons is in order Recents/Home/Recents but if you would like it to be in order Recents/Home/Back you can flip it and save the change. However, the choice is completely yours.
3. While you are on the same page and done with the flipping of the button layouts you will also like to click on Apply Current Theme which is under Background Colour so you can change the color of the navigation bar. There are seven options you have they are all light colors and applicable in certain apps. Just click on Apply Current Theme to set it.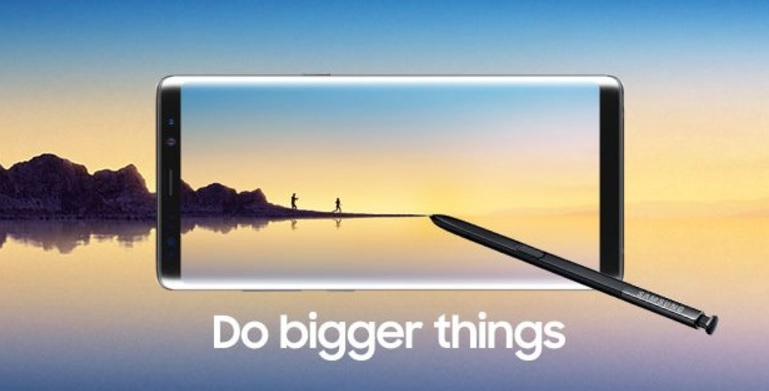 4. Security is what we need to look into next which is also something very important these days. Under Settings > Lock Screen and Security, you have some security options –Face Recognition, Fingerprint Scanner, and Iris Scanner. The Screen Lock Type is actually a mixture of pattern, face, and fingerprints. You can select one which you are comfortable with. The face recognition is what works best. The fingerprint scanner is located at the back of the Note 8. You just need to go to Screen Lock Type and set your choice of security lock. The same page also has Smart Lock option which is actually an Android facility and works with a pattern. Here you have options when the phone will not lock on you if you are in your trusted location say at home, trusted devices, for instance, a Bluetooth device, on-body detection so till you are holding it the device won't lock. You need to enter the data for them as the phone prompts you do. Once your security is set before you exit the Lock Screen and Security – Enable the Always on Display so you can see your date, time and battery percentage even when the phone is in sleep mode.
5. Next on the list of things to do on Galaxy Note 8 is to change the sounds of your phone. Go to Settings > Sounds and Vibration to set your choice of ringtone, volume, vibration, vibration pattern and the notification sounds. On the same page is the option for Do Not Disturb for which you can set up a schedule maybe for the night or if you are in a meeting or conference. You have the option of Exception where you can set the people whose calls you wish to attend.
6. Most of us would want to change the default theme that all Samsung phones come with. This can be done from Settings > Wallpapers and Themes. You can search for the theme you like based on color, animation, landscapes, animal, season and so much more.
7. More in things to do on Galaxy Note 8 is when you head to Settings > Advanced Features. The list of all the pretty stuff is here – Smart Stay which keeps the screen on till you are looking at it, One-Handed mode, finger sensor gestures which you can use to access or close apps and other features with fingerprint sensor, Quick Camera Launch which if enabled opens the camera for you if you press the Power button twice irrespective of whether or not the display is on or off and many more. You also have the S Pen features here which you can set according to your requirement.
8. Irrespective of the Note 8 not actually having an Edge like the S8 or S8 Plus there is an edge panel which is customizable and it looks pretty cool. You can add your choice of applications, contacts etc. You also have the option to not have it completely – just disable the Edge Panel.
Once these things are done your Note 8 is all set to be used and explored. The phone is a hub of extraordinary features which will make you fall in love with it over and over again.
Read also- How To Set Up The S Pen On Galaxy Note 8
---