It seems the same problem exists in Samsung S5 as well with the MicroSD card. I heard the same issue from many
It seems the same problem exists in Samsung S5 as well with the MicroSD card. I heard the same issue from many of my users, and even they lose some of their best photos due to Samsung Galaxy S5 Corrupted MicroSD Card. One of them is having 64 GB SanDisk MicroSD card, and he usually uses that to save the music and photos. Although it seems to be no problem with the apps stored on the external memory.
See also:  How to increase WIFI signal on Samsung Galaxy
See also:  How to Fix Samsung Galaxy Lagging Issue
How

to

Fix

Samsung

Galaxy

S5

Corrupted

MicroSD

Card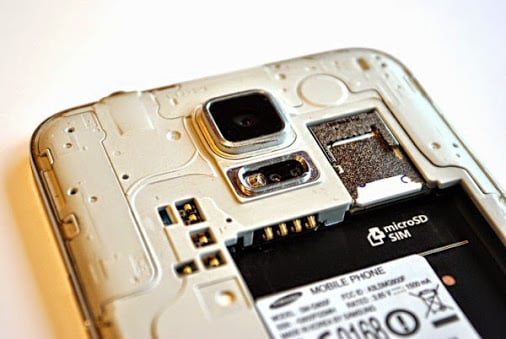 I found some ways to troubleshoot the Samsung Galaxy S5 corrupted MicroSD card, and I will share them here so that those who have the same problem can fix it. 
The first thing is to check the phone temperature when you are continuously facing this issue. The SanDisk MicroSD cannot work correctly if the phone reached its optimum temperature. In this case, I saw after shutting down the camera app ( going to settings > Application > All > Camera-Force Stop), the phone temperature reduced, and it was normal. You can monitor the phone temperature from by using the TempMonitor app. 
Keep in mind if you remove the MicroSD when it is in some operation, it can cause the MicroSD card to be corrupted. Actually, in such a case operating system creates bad sector or unreadable section on the MicroSD. If that happens, you can check the MicroSD from your computer's command prompt. But you should have the MicroSD card reader for that. After your computer detects the card,
Go to the start menu at the bottom left corner of your computer and press on the search bar.

Type the word 'cmd' there and press enter.
It will bring a list of programs under which you will notice an option cmd.exe.
Right click on that and select 'Run as administrator' to open the command windows.
Type here chkdsk G: /f      ,

In

this

case,

G

 

is

the

 memory 

card

 

drive

 letter. Next press enter.
The process takes some time in case the amount of corruption is more or else the size of the memory card is high. And then you will receive a report of the data being fixed or retrieved.
Anyway, I was not able to detect any bad sector on the MicroSD, and I suggest you call SanDisk call center if you identify bad sector for a replacement.
I am using a Samsung MicroSD card and never faced this kind of problem with my phone. So, as there is no such permanent solution, I will suggest buying Samsung MicroSD. 
---