Samsung has launched very recently their flagship device Galaxy S8 and S8+ and it has reached many of the markets
Samsung has launched very recently their flagship device Galaxy S8 and S8+ and it has reached many of the markets such as South Korea and European countries. But this device is yet to reach India as the official release date of the device in India is 5th May. This device is packed with numerous amazing features while the display is another attraction.
This company faced a great downfall when their Galaxy Note 7 turned out to be a disaster and this is why they thought to come back to the market fully fledged with another flagship device Galaxy S8 series. However, unfortunately, this one too is not free of flaws. The users who have already got their hand on the brand new Galaxy S8 series started complaining about some of the issues and Galaxy S8 Red tint issue is one of the most common of them.
Here we will discuss more about the issue ad how to fix it.
See also: How to disable Samsung Galaxy Always on display
What is Red tint issue in Galaxy S8 series?
As per the Galaxy S8 users, the display of their device has a red tint and this tint is mostly visible on the white screen. Also if you compare all other Galaxy devices screen with the Galaxy S8 one, the latest one have a redder screen than others.
Users who have faced this issue have tried to get rid of it by various ways by adjusting the color balance but unfortunately, nothing worked out. However, this issue was being dismissed by the company when it was first reported and they stated that it is just a small issue and can be easily fixed by going to the settings option. The S8 series is featured with a color balance settings where the red, green and blue color can be adjusted. Users have also tried to set the red value to the lowest and sadly it did not offer any difference to the Galaxy S8 tint issue.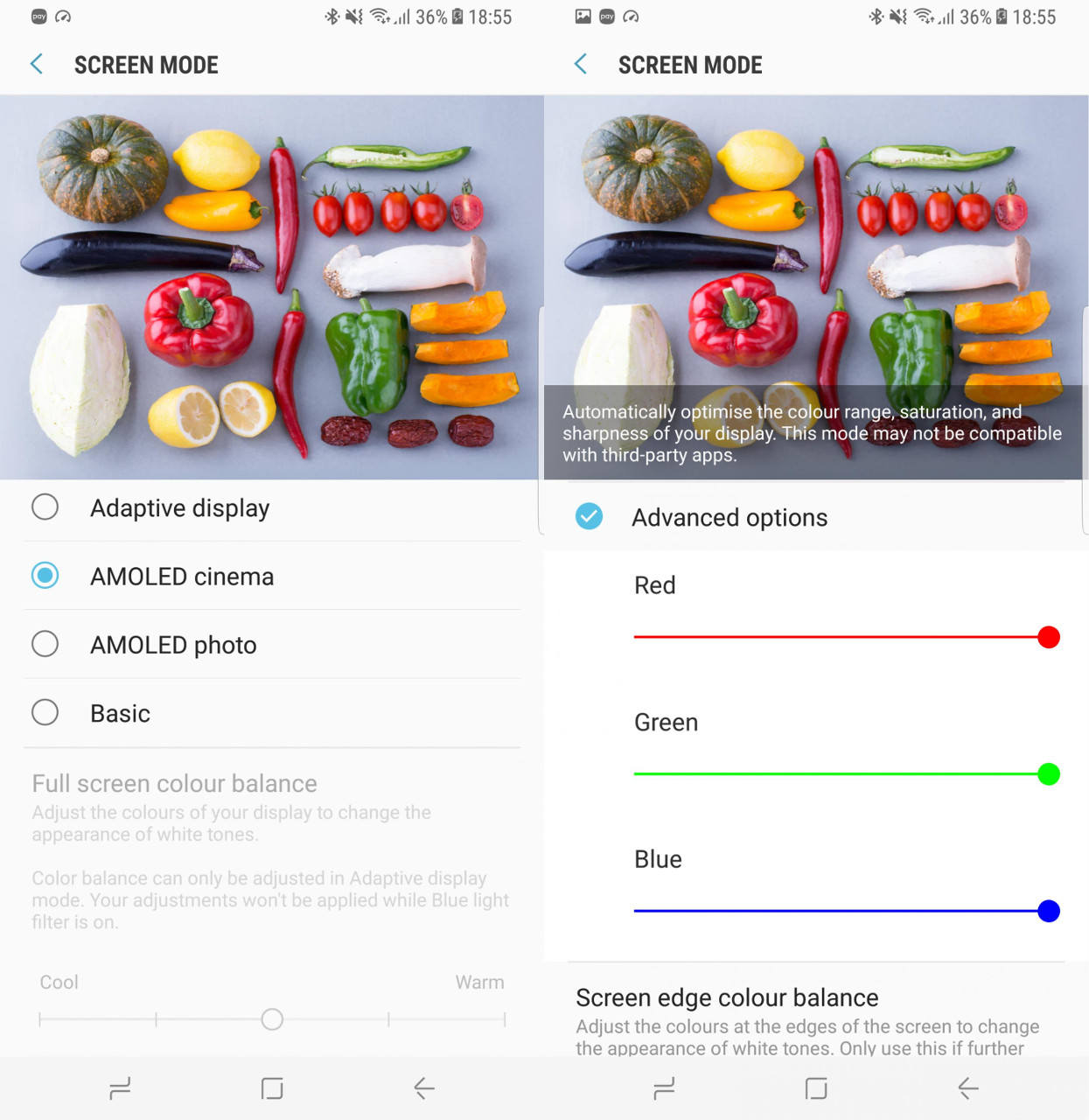 Eventually, while Samsung started receiving pressure from all corners they announced to come out with a software update to fix this red tint issue.
Also, it is mentioned here that this red tint issue in the galaxy S8 series is not a hardware issue rather it is a small glitch that can be easily fixed through the update.
Solution to Galaxy S8 Red tint issue:
While you can try various methods such as restarting the device, adjusting the settings and more to get rid of the issue but it is only the software update which can work like magic. The company once announced of bringing a software update and the good news is that update is already available.
So, the ultimate solution to the Galaxy S8 Red tint issue is that software update. Samsung has started rolling out this update in South Korea and in some of the European countries. With this new update, users will get two options such as the adaptive display screen mode will offer 'Full-screen color balance' while the option screen edge color balance will be available in screen mode menu. This software update is available for both the Galaxy S8 and S8+ and it carries the build number XXU1AQDG.
So, no need to worry about this red tint issue in your Galaxy S8 series. The Indians customers are the luckiest ones as they are still yet to receive the device in their hands and will be able to fix the issue immediately. As they will boot up the device for the first time, the update will appear to them.
Both the device Galaxy S8 and S8+ are highly priced and any kind of issue even though small enough will be really disheartening. However, this was not a hardware issue fortunately and as per the users, this S8 series is performing really well.
---