Update: The long awaited Samsung Galaxy Note 7 (expected to be named Samsung Galaxy Note 6), introduced in August,
Update:

The long awaited Samsung Galaxy Note 7 (expected to be named Samsung Galaxy Note 6), introduced in August, and launched in September 2016 was discontinued after numerous reports of overheating and catching fire.

Samsung decided to stop sales and shipment of Galaxy Note 7 on October 10th 2016. The replacement program is still available to those who have purchased this device. You can find more about it here.

President and CEO of Samsung Europe, YH Eom, wrote an open letter to Galaxy Note 7 customers.

"As you have heard – or experienced personally – we have stopped production of the Galaxy Note7. We are working swiftly to ensure every Note7 device is safely returned. For those directly affected, we appreciate your patience throughout the replacement process."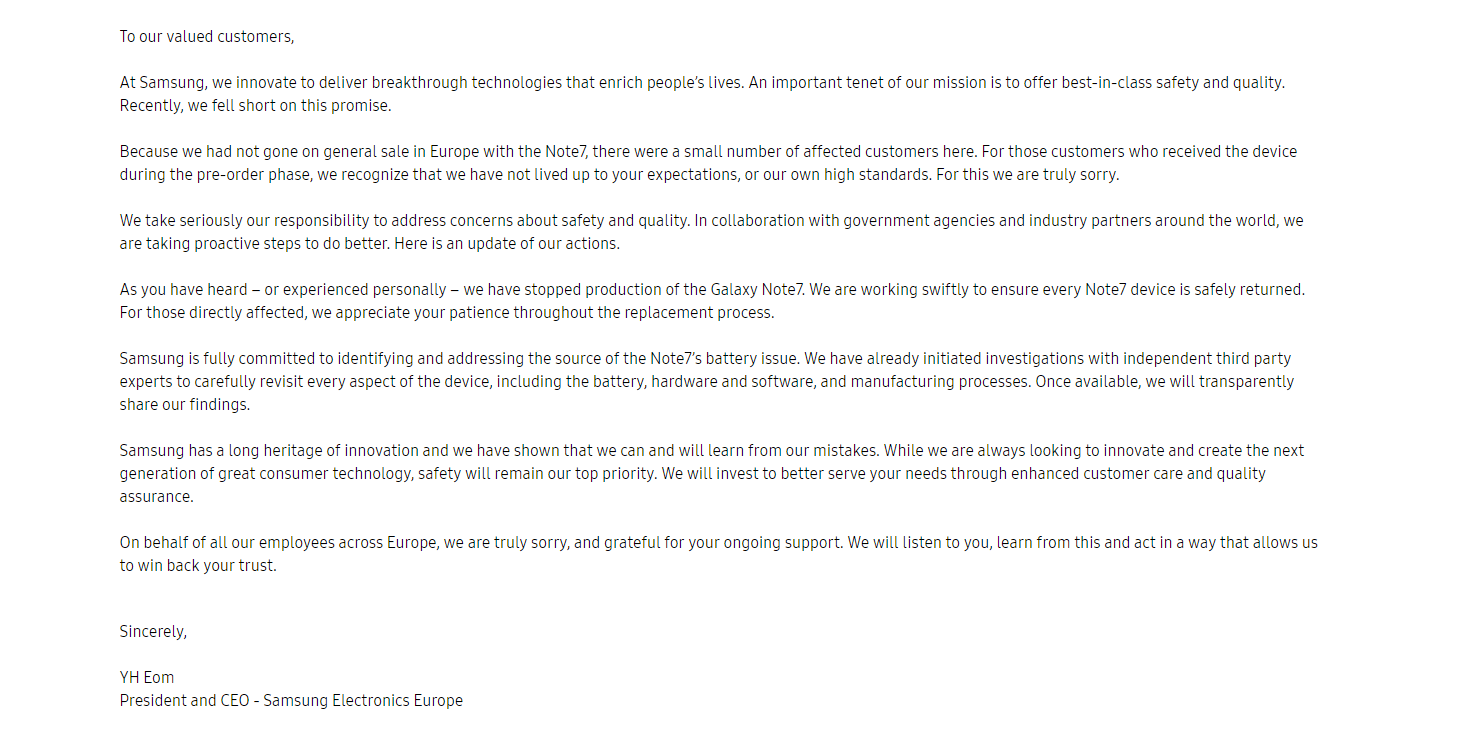 Samsung Galaxy Note 6 :Many great smartphone models hit the markets every year, and there are always a few models that we are impatiently waiting for. When it comes to the year 2015, some of the models we have been waiting were LG G4, Huawei P8, Samsung Galaxy 6, Samsung Galaxy 6 Edge, iPhone 6s, iPhone 6s Plus, HTC One M9, Google Nexus 6 and Samsung Galaxy Note 5. We talked about all these smartphones before they were released. We all wanted to know more about them, their specifications, features, price, and more because all high-end smartphones always bring something new and exciting.
That trend continues and smartphone enthusiasts from all over the world want to be up to date. One of the smartphones that attracts a lot of attention already is the part of the popular Galaxy Note series, Samsung Galaxy Note 6. Samsung is a company well-known for its high-quality smartphones as each device offers incredible user experience thanks to tons of interesting features. They launched Samsung Galaxy Note 5 in August, but people are already speculating about Note 6. That is a device we are going to talk about here, and we are going to share all the details, rumors and guessing about the features, specs, release date and price.
Samsung Galaxy Note 6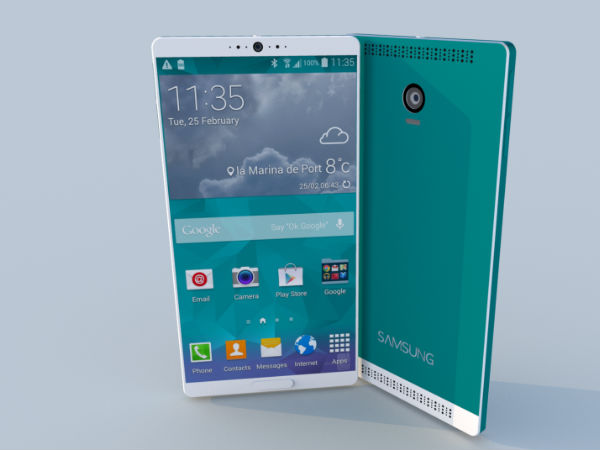 Samsung Galaxy Note 6 Specification
See  Samsung Galaxy Note 6 full specification 
Let's start with the device's specification. We have gathered most of the details that are circulating on the Internet from the moment Samsung Galaxy Note 5 became available. So, what the rumors say so far?
When it comes to its display size, we can expect to see a 5.7-inch screen, same size as on Note 5, but some rumors say it will be a 6-inch, or 6.2-inch screen. Another thing that should be mentioned is foldable display. According to Business Korea report, Samsung is working on flexible displays that will offer a new experience to the users. Even if the user bends the device, flexible display will produce the same picture quality.
"The industry believes that the commercialization of foldable smartphones will be possible in 2017, "an official from Samsung Display told the publication. It seems that two flagship devices will come with this new technology: Samsung Galaxy S7 and Note 6. Expected display resolution is 4K.
The video below shows Samsung announcement of Youm flexible OLED displays, and you can see the flexible OLED prototype.
Galaxy Note 6 will most likely have 16-core Exynos processor, developed and manufactured by Samsung Electronics. Thanks to such a powerful processor, device will be able to perform complex tasks with ease. Some models that have been launched this year, such as LG G4, Samsung Galaxy S6 and Google Nexus 6 all come with 3 GB RAM. As the smartphone technology keeps getting better, we can assume the device will come with 6 or 8 GB RAM. The internal memory options are 16, 32, 64, 128 and 256 GB.
What about the camera? Many people take photos with their smartphones, and companies take that very seriously. We already know that Samsung Galaxy Note 6 will be a high-end smartphone, so its rear and front-facing camera certainly won't disappoint. Some speculations say the device will come with 30 megapixel rear-facing camera, and a 16 megapixel front-facing camera, which is pretty awesome. The report from ETNews says that Samsung is also working on dual-camera setup. According to this report, the company won't use the technology on Samsung Galaxy S7. It will probably be used on another flagship device, and Tech Gadget Central believes it will be Samsung Galaxy Note 6. Dual-camera technology will allow users to record 360 degree videos in 4K, take live photos and 3D photos as well.
One of the biggest issues people have with their smartphones these days is the poor battery life. As we can see, Galaxy Note 6 will be a pretty powerful device able to perform complex tasks, which is why one of the predictions is the improved battery – 4200 mAh.
We can also expect a new design that may include metal and alloy components. The company is certainly working on a new design considering the fact the handset will most likely come with foldable display. It will probably be sleeker and slimmer, available in two colors, black and white. Perhaps they will introduce new colors later, as it was done with Samsung Galaxy Note 5. There are two new colors: pink gold and silver titanium, and for now, these devices are available in South Korea only.
What about the operating system? The latest Android version is Marshmallow (6.0), but as we all know Google is continually developing Android since the initial release, so we cannot speculate about the 2016 Android version.
Samsung Galaxy Note 6 Features
Main Features
1 CPU
16-core Exynos processor
2 RAM
8 GB
3 Camera
30 MP
It seems that Samsung Galaxy Note 6 will bring many interesting features, at least that's why rumors say. We have already mentioned foldable display that Samsung is working on, and dual-camera setup. What else? Well, there are camera features such as image stabilization and auto focus.
We should not forget fast charging technology. As I said before, every smartphone user has issues with poor battery life. When you buy the device, everything will work fine and you'll be satisfied with the battery life as well, but after some period of time you'll have to charge your device every few hours which can be pretty frustrating. It's not surprising that battery life isn't as long as we want it to be considering the fact smartphones are more powerful than ever, and that we can do so many things from calling, texting, browsing the Web, to taking photos and videos, and more. That's where fast charging technology comes into play. Some rumors say that in just 4 minutes, 40 % of the battery will be charged, and that's amazing.
We can also expect dustproof display, waterproof surround and fingerprint scanner. We don't know yet will the Samsung Galaxy Note 6 come with 3D Touch, technology everyone is talking about. Apple introduced this technology with their iPhone 6s. The device senses how much pressure the user applies to the display and 3D touch introduced Peek and Pop. This feature allows the users to preview the content. For instance, you can peek at the email that's in your inbox with the light press. It's pretty interesting and very useful. Many companies that manufacture Android phones are planning to present this technology and it seems that the first Android phone with 3D Touch will be ZTE Axon Mini. Perhaps one of Samsung Galaxy Note 6 features will be 3D Touch as well. We'll see.
We are sure Samsung will bring more new features we don't know anything about, which is why everyone is impatiently waiting for the company to make an official announcement.
Samsung Galaxy Note 6 Price
What about the Samsung Galaxy Note 6 price? The phone will be costly for sure, but we only have some predictions when it comes to pricing, and here is what predictions say. The handset will cost around $1200 in the United States, EUR 1086 in Europe (France, Germany, Austria, Spain…), and £705 in the UK. Is that surprising? Not so much, especially if we have new technologies and features in mind. After all, it will be a high-end smartphone and such smartphones are pretty expensive.
Samsung Galaxy Note 6 Release date
The latest handset from the popular Galaxy Note Series, Note 5 was launched two months ago, and people are already asking when the Note 6 will see the light of the day. Again, we can speculate, but when it comes to Note Series, there is a pattern that company follows when launching the smartphones. Galaxy Note 2 was released in September 2012, Galaxy Note 3 was released in September 2013, Note 4 in September 2014, and the latest, Samsung Galaxy Note 5 in August 2015. With that in mind, we can predict Samsung Galaxy Note 6 will become available in September 2016.
Conclusion
We have gathered all the info about Samsung Galaxy Note 6 that are circulating around, and we have shared everything that we know so far: specs (foldable 4K display, 16-core Exynos processor,4200 mAh battery, 6-8 GB RAM, 30 megapixel rear-facing camera…), features (foldable display, dual-camera setup, fast charging technology, optimal image stabilization, auto-focus…), price and release date. For now, all we have are speculations, but that's the trend with every high-end smartphone. There will be more rumors and news for sure, and hopefully, we won't have to wait too long for the official announcement from Samsung. Note 6 will be a hot topic for sure, and as soon as we find something new and interesting, we'll share it with you!
---