The android Lollipop update on Galaxy S4 has brought a lot of new features, which are making the users to upgrade
The android Lollipop update on Galaxy S4 has brought a lot of new features, which are making the users to upgrade their phone but the update came with some issues as well. However, the good news is that, galaxy s4 update problems are not hard to fix. We have made a list of the common Galaxy S4 lollipop update issues and their fixes.
See also- How to fix Galaxy S4 connected to wifi but no internet connection
List of Samsung galaxy s4 update issues and their fixes
Contact app crashing issue
Contacts app crashing is the most common issue that users have been facing after Samsung s4 update to android Lollipop. The app is showing "Unfortunately, Contacts has stopped" and then freezes.
Solution
If you are experiencing the same issue, then head to Settings > App Manager > All tab > Contacts and then hit clear cache. After following this process, see if the problem is fixed. If not, then clear the app's data as well.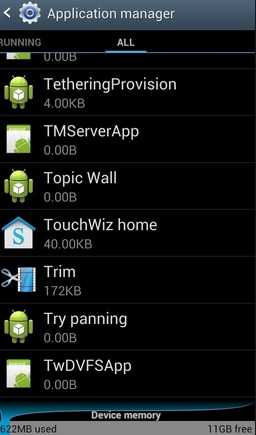 Camera lags or crashes
There are two types of camera problems that you may face after Samsung galaxy s4 update, tremendous slow when you try to launch the camera app, and another one is crashing issue.
Solution
If the slow camera is giving you pain, then you will just need to turn the image stabilization off in the camera app. Navigate to Camera app > Settings > turn off Anti-Shake.
Those who are facing the camera crashing issue and are not able to access the camera, head to Settings > Application Manager > Camera and clear cache. If clearing the camera cache does not solve the issue, reboot your Galaxy S4 by pulling out the battery for 25-30 seconds and put it back. If this step also fails, then you can try for a new camera app.
If any other type of camera problem is giving your problem, then visit here. Different camera problems on Galaxy S4 and their solutions are discussed there.
Galaxy S4 com.android.phone freezes
After Samsung s4 update to android lollipop, this is another most common issue. We will discuss few steps to solve this issue; you can try them one by one.
Solution
Go to Settings of your Galaxy S4 > App Manager > Reset app preferences. Restarting the phone can also fix the problem, though it's a temporary fix.
Next thing you can do is, boot the phone into the safe mode to see if the same error occurs. Turn off the phone, keep tapping the menu soft key repeatedly after restart. After the phone is booted, Safe mode will be shown at the bottom left corner of the screen. Now use your phone in this mode and observe if the issue is occurring again.
If you find that everything is fine in Safe mode, then a third-party app is the reason behind this problem. Try to find out the problematic app and uninstall it. Alternatively, you can uninstall the apps you recently installed, one by one and see if the problem persists.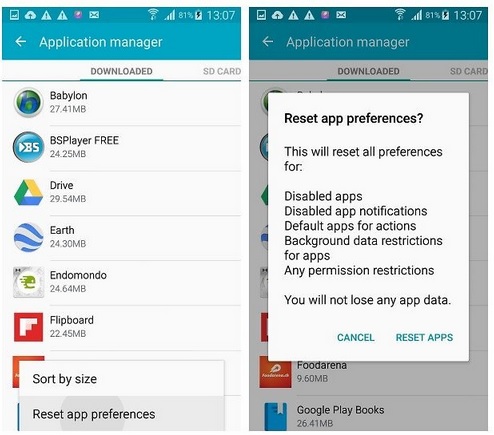 Lagging and slow app starting issue
Samsung s4 update has caused slow performance issue for many users and to fix this problem, first start with a simple restart. The next step is clearing the cache. For that, turn off your phone, press Power, Home and Volume up buttons together and hold them until the Recovery mode screen is shown to you. Now scroll through the options using volume keys and Power button to confirm.
Deactivate the S Voice shortcut with the Home button by entering S Voice > Settings > and uncheck the box next to "open via home key."
Another thing you can do is go to Developer Options, which you can find in Settings and turn off the animations such as transition animation scale, animator duration scale and window animation scale.
Keyboard keeps disappearing
This is a really irritating issue after Samsung galaxy s4 update to android lollipop because this problem affects the usability also.
To get a solution to this keyboard disappearing issue, head to Settings > App manager > Running tab > go down to Samsung keyboard and check if any error message is there.
You can also download another keyboard app from the Google Play store and make it your default keyboard.
The phone won't start or behaves strangely
Some users have found that their phone is behaving strangely after updating to android lollipop. In such a situation, factory reset is the best solution as it fixes many other bugs as well. However, back up the important data and files on your phone before conducting factory reset.
Must read- How to fix Galaxy S4 overheating issue
---