Samsung Galaxy S5 is indisputably one of the best flagship smartphones 2014 has seen. A powerful CPU and an
Samsung Galaxy S5 is indisputably one of the best flagship smartphones 2014 has seen. A powerful CPU and an excellent camera made the phone top the charts when it came to choosing a good smartphone.
With experience, we all know that there is no phone that comes without any problems. Sooner or later, phones are detected with certain issues which need to be solved, and the S5 is no exception. While it is considered to be one of the best phones in the market, there are certain problems that have been identified with the Samsung Galaxy S5. The good news is that these problems have a solution, so there is no reason to put away your S5 because you faced an issue with it.
See also- How to boot your Galaxy S5 to Safe mode
Performance issues
The most important thing in a phone is its performance, and at a time when speed is the buzzword for phones we hardly want a phone that lags. Here are some ways to enhance the performance of your Samsung Galaxy S5:
The pre-loaded bloatware on your phone can be disabled if you choose not to use them. Go to application manager and disable the applications that you do not need. You can always enable them from the same place.
Clearing cached data occasionally, helps increase the performance of your phone. Your S5 may have built up a lot of cache data over a period of time, and albeit it helps open apps quickly, the data may end up slowing your phone if there is too much of cache data stored. To clear cache data go to settings, tap on storage, select cached data and then tap on clear cached data. Tap on 'OK' when prompted, to clear the cache.
Reduce the widgets on your screen, especially if you have widgets that you are not using. The reason for removing widgets is that your phone automatically updates the widgets periodically to keep them in sync. This means that your phone is working at something you basically do not need, not to mention the data used by the widgets to stay in sync. You just need to long-press at a widget and then drag it to the 'Remove' icon on the top of the screen.
The home screen S Voice shortcut, is another reason why you may find a lag in your phone. So if you do not use S voice, then simply get rid of the shortcut and you will notice that the next time you press the home button you will be taken to the home screen instantly. You can disable the shortcut by pressing the home button twice and then choosing the action overflow menu on the top right. Go to settings and uncheck the box that says 'Open vis the home key'.
Back-up and reset is another way to give your phone a fresh start. It is helpful especially when the phone has been in use for a long period of time. Back up all your data and important applications and once you have done this, simply reset your phone to factory settings by following these steps:
Go to settings > Backup and Reset > Factory data reset > Reset Device.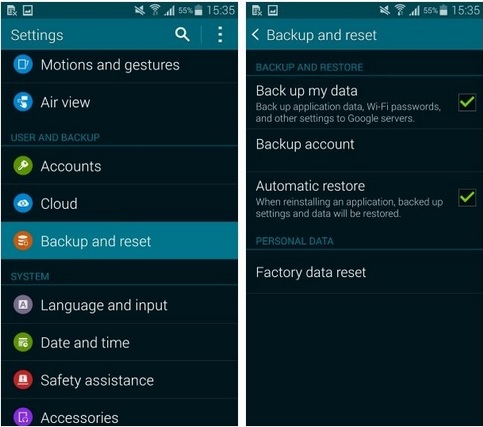 Read also- How to use Collage studio on Galaxy S5
Poor Battery Life
Battery drain seems to be one of the most common Galaxy S5 problems and was also one of Galaxy S4 problems. Follow these solutions to optimize the battery life of your S5:
Enable the power saving mode on your S5 and you can choose to restrict data so that apps do not sync automatically and restrict the performance of the phone or even choose grayscale as an option when you may be away from a charging station for a long period of time.
The battery life of your phone greatly depends on your screen, as lighting it up takes most of the battery, so reducing the brightness and choosing the screen timeout at an early time is helpful for the battery life of your Samsung Galaxy S5.
For those who have enabled smart gestures but do not use them, it is advisable to turn off these gestures to optimize the battery life the S5.
Overheating
Heavy usage of the phone may cause overheating, especially when you are playing high resolution games over a long period of time or watching videos on the phone while it is charging. There is no solution for overheating when the screen is on for a long period of time.
However, if you notice overheating during regular use then check if there is a certain application that is used which causes overheating. Uninstall the app to avoid damage to your phone through overheating.
It is suggested that users check the battery of their phones for bulging or leaking if they notice regular overheating. If there are no problems with the battery then it may be time for your phone to visit a technician for professional diagnosis.
Slow Camera / Camera Crashes
A slow camera in the S5 may be because of the video stabilization option which is enabled in your phone's camera. Turn off video stabilization by going into the camera settings.
If the camera crashes then it is recommended to turn off your phone, wait for approximately a minute and start it.
While this usually starts the camera for you, if your phone's camera displays the error message "Warning: Camera failed" then your phone is affected by a camera bug and the issue is more serious. Samsung has acknowledged the problem and you need to contact your retailer or Samsung in which case your phone may end up being replaced.
Water Damage
The water resistant phone is not meant to be bathed in water every now and then. It is important to understand that the phone is not waterproof which means that it is designed only to resist water to a certain level.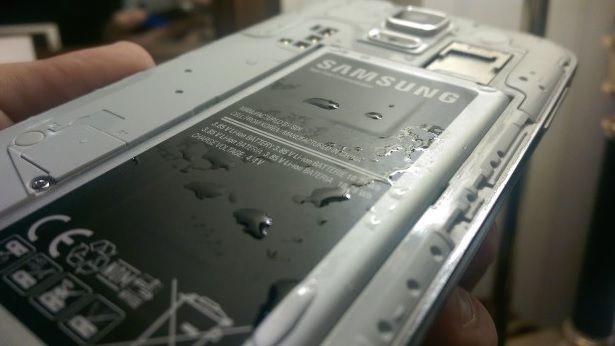 If your phone stops working after it got wet then do not turn it on. Take out the battery and wipe your phone's components with a paper towel. Allow it to dry and put it in a bag of rice for a day. Assemble your phone back and if it still does not work then your Galaxy S5 repair technician should be visited for a professional look at the phone.
Touch Response is Bad
Some Galaxy S5 users have reported unresponsive touch or a lack of calibration in the phone's touch system. Samsung had released updates to fix this, however, some users still find the touch to be inconsistent. A few ways to solve it are:
Restarting your phone should fix issues with the phone's touch.
Increasing the touch sensitivity by going to settings and then display, can help you resolve issues you face with the touch of your phone.
For regular issues with the touch response of your phone, back up and rest your phone to factory settings.
If resetting the phone does not restore the touch response then you may want to test your phone's touch by going into the S5 service menu. To do so, go to your phone's dialer and enter *#0*#. Tap on 'Touch' to test how well the S5 screen reacts to your touch. If you find problems in the touch then you may want to put it under the technician's lens who can professionally examine the problem.
Screen Won't Light Up
A few Galaxy S5 users report the problem where the screen of the phone's screen does not light up even though the capacitive buttons do. Some of the solutions for this problem are:
Power off your phone, wait for a minute and power it on.
If the above step did not work then take out the battery of your phone and put it back again and restart your phone.
A microSD card may be causing the problem, so restart your phone after removing the microSD card.
If the problem persists then the Galaxy S5 screen repair technician may have to check it professionally so take it to the technician.
"Unfortunately, Contacts has Stopped"
For Galaxy S5 users who get this message very often, the following workarounds or solutions can help:
Disabling Google+ on your phone seems to stop this problem. Simply go to settings and then to application manager and disable the app. The downside is that you will not be able to use Google+. For users who are not avid Google+ users or who do not use it all, this workaround will help you resolve the problem.
Clearing the cache is also found to be helpful by many users. You can do so by going to Settings > Storage > Cached Data > Clear Cached data.
These are the most common Galaxy S5 problems. The workarounds and solutions have been tested by users and have borne positive results. While there is a possibility that a professional technician's help may be required in serious issues, most of the problems in the Samsung Galaxy S5 can be dealt by users without going through a lot of problems. The solutions mentioned above are simple so that the users can tackle most of the S5 problems with ease.
You may also read- How to backup Galaxy S5 to PC
---