We have all heard of the impressive Samsung Galaxy S6 and its amazing specifications. Everything that it had
We have all heard of the impressive Samsung Galaxy S6 and its amazing specifications. Everything that it had to offer to us was pure perfection. From the camera's resolution and the size to the amazing battery performance, users were awed and amazed with everything about that smartphone. But, in the same month that the S6 was released, Samsung decided to make another version of this phone. Announced in March 2015, the same month of the Samsung S6's release, the Samsung Galaxy S6 Edge started with its construction.
The following month in the same year, the legendary S6 Edge took its toll in the markets. It still is in the markets, surprising many and impressing others. There are many people who missed out big time on the details/specs of this phone and its numerous advantages. If so has happened with you, then come along as I take you on the Edgy S6 ride:
SEE ALSO: Reap Hundreds of Benefits with the LG G Flex 2 | What to Expect in the Galaxy S6
For starters, we shall be talking about the appearance, screen, display and dimensions of the Samsung Galaxy S6 Edge:
Appearance
On the outside, the S6 Edge is very stylish and smart. Ultra thin and available in very respectable and decent colors this phone is amazing in many other aspects. Green Emerald is one of the sweet colors this phone is available in. Not tacky or anything, this color is perfect. Other colors include Black Sapphire, Gold Platinum, and White Pearl.


With chrome details, everyone will love this color/hue.
Owning a Super AMOLED 5.1 inch capacitive display screen the S6 Edge brings you the best experience of all. Resolution bigger and clearer than usual the Galaxy S6 Edge has a 1440 x 2560 screen resolution. It also has a protection from the most reputable glass protection brand. Corning Gorilla Glass 4 protects your phone screen 24/7 from frequent minor falls and encounters with gritty materials.
There is a special feature with the screen of this phone called Curved edge screen. The photo below may be of help to demonstrate the use and overview of this phone's curved screen.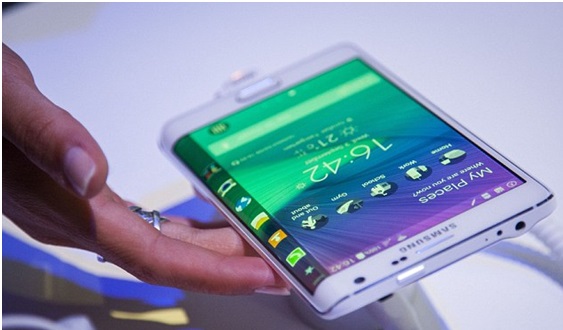 Also, another feature this phone procures is the TouchWiz UI aspect. Colorful and helpful in many ways I will leave you to judge whether you like this feature of the S6 Edge or no.
The usual dimensions of the S6 Edge's screen can measure up to 142 x 70 x 7 mm. Rounded off to the nearest digit you can get an overall idea about how big your S6 Edge phone can be.
Next up, the topic shall be about how much memory you can have upon buying the phone. The perks that come along and how you can buy a phone version that has the amount of space you need.
Internal Memory
When you come to buy an S6 Edge phone you have to know which version do you need and which specs you should look for. Take for instance the internal memory of your S6 Edge. Not coming in one stable amount, there are varying quantities which you should decide which one to pick from. There is an S6 Edge version that has 32 GB internal memory, 64 GB, and 128 GB. Take your pick and be aware of the fact that when the internal memory increases, the price rises as well.
Another fact you should be aware of is that your S6 Edge has no memory card slot. So you have to buy a phone that has a handsome amount of internal space so as you can download apps at your ease. If you buy the 32 GB version and you need more space, you will have to uninstall apps so as you can make space for more. You are warned!
The space of your RAM stays fixed at 3 GB.
Now, comes the best and most interesting part of this entire review. The camera bit! Here we will be talking about the amazing camera of the S6 Edge alongside the many perks.
Camera
Just like the Galaxy S6, the S6 Edge has a 16 MP camera with a huge resolution. Same goes for the front camera. The both phones have an equal measuring of 5 MP front camera.
An example of the 5 MP front camera: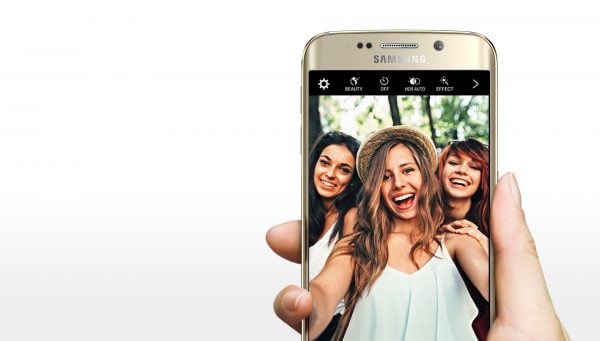 The S6 Edge's camera needs from you absolutely nothing and it produces for high-class pictures that can live up to the standards of professional advertising. The camera feature of optical image stabilization makes it easier for you to take a picture even if you are on a moving vehicle or if you are on a run or simply moving. Another aspect that can make everything for you all the better, your pictures will look just as good as they are on your phone on your PC/laptop.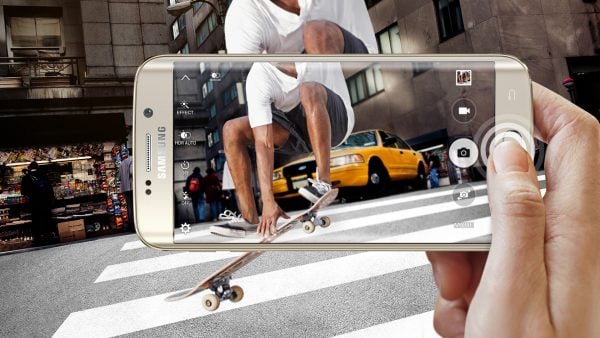 A very handy and amazing feature in the S6 Edge is that you can double tap your home button and at once the camera app shall open up. It is said that spontaneous instants can be captured easily without you having to miss them. If your phone is off, you can turn it and your camera on in the blink of an eye and snap a picture as soon as you can.
The front camera of the S6 Edge is very clear and nice too. In clear lighting, your pictures will be the definition of awesome. There is a 'heartbeat' sensor on the rear panel of your phone and you can use that to activate the photo.
The Hidden Secret
Many will not realize that at first but the big middle button in the center of your phone is actually more than just a button. Ever worried and hated people using your phone? Well the Samsung Galaxy S6 Edge is here to rid you of your worries. The lock button is actually a fingerprint sensor and only your fingerprint can enter in the phone's directory. Anyone else apart from you will be denied entry.
Instead of having to keep your phone with you all the time, you can easily switch it off and leave it anywhere and do your thing. No one will be able to enter your phone, make changes or do any sneaky sort of thing to your device.
---