Samsung Galaxy S6 and Samsung Galaxy S6 Edge were officially launched in Barcelona. We have a lot of photos
 Samsung Galaxy S6 and Samsung Galaxy S6 Edge were officially launched in Barcelona. We have a lot of photos and a series of impressions.
The South Koreans have promised that Samsung Galaxy S6 will be a revolution. And they kept their word, launching not one, but two really successful devices, not only in design but also in approach.
I played with both devices immediately after the launch, and these are my first impressions.
Samsung Galaxy S6, as never seen before:http://www.technobezz.com/samsung-galaxy-s6-s6-edge-revolution-waiting/

Posted by Technobezz Publishing on Thursday, March 5, 2015
Samsung Galaxy S6 and S6 Galaxy Edge Design
I'll start with the design because it is probably the most important aspect of these two smartphones. Some time ago, the director of LG spoke about smartphone design and said that it reached a climax.
Samsung has just demonstrated that this is not true. The South Koreans did what they are best at, they took elements from other companies and have merged them into a unique way. And the best part? This time it came out great.
Samsung Galaxy S6 and S6 Galaxy Edge combines glass with metal to provide a great feeling. For the first time, is a truly premium feeling and it seems that phones are now made to comfort your hands. The influences are obvious: iPhone , Sony, HTC, but Samsung has taken everything good from the companies listed earlier and did something extraordinary.
The two edges curved screen of the Samsung Galaxy S6 Edge almost begs to be stroked and despite the insignificant thickness phones seem to have a solid construction.
The only thing that bothers in terms of design as the main camera which is protruding. However, it should be noted that it is protected by sapphire , and it will not be scratched.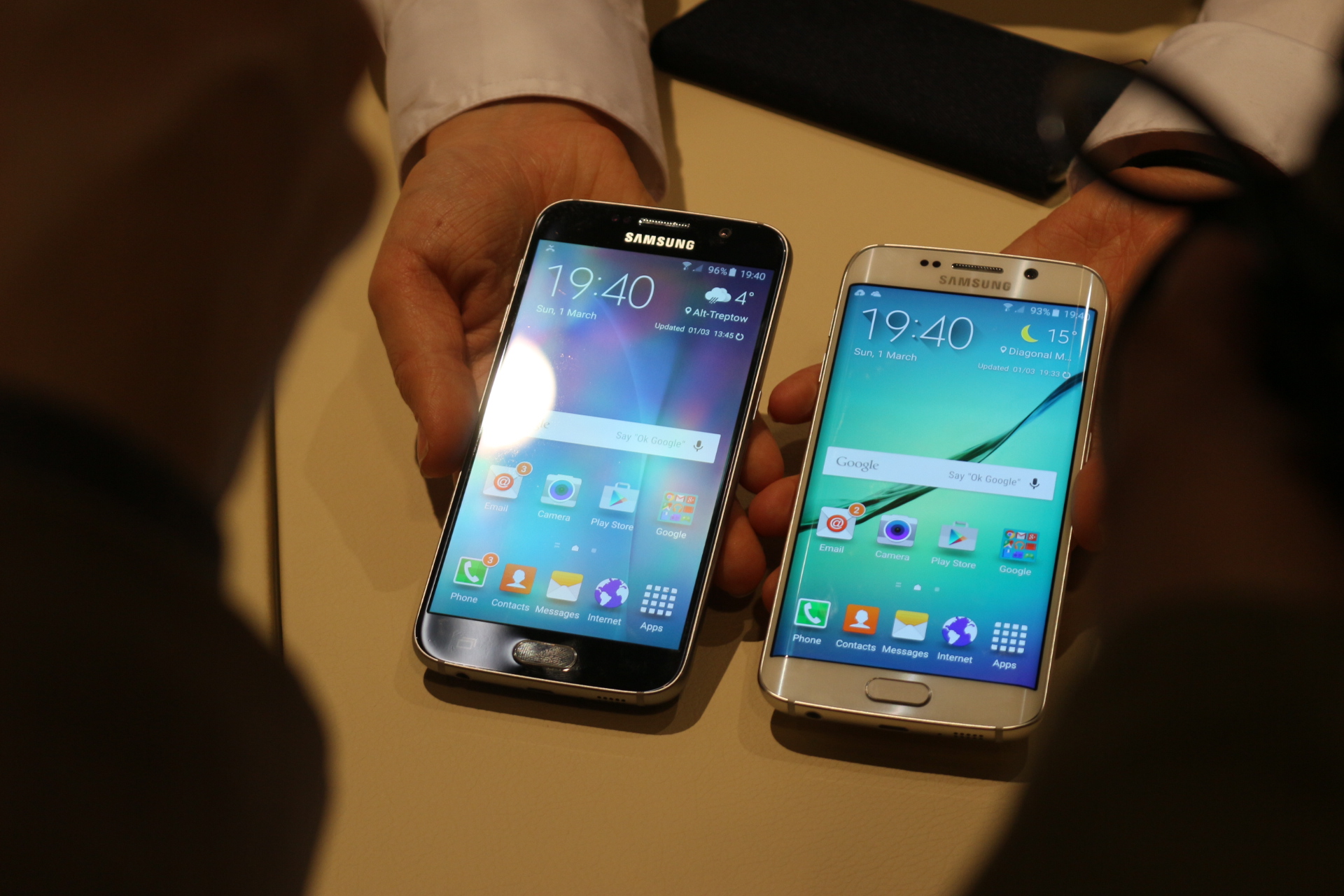 Samsung Galaxy S6 Edge and S6 – Performance
Both smartphones have the same technical features: Quad HD screens resolution of 5.1 inches, Exynos 7420 octa-core processor and 3GB RAM.
At a first glance, it seems that no application can slow the two phones, but I did not get to test the performance too long.
Samsung Galaxy S6 and S6 Edge can be defined by one word both in terms of outside and inside: the word is "fluid ".
The new interface introduced by Samsung, in addition to looking great, is very fast and removes all the downtime. In benchmark tests, the Samsung smartphones are ranking first.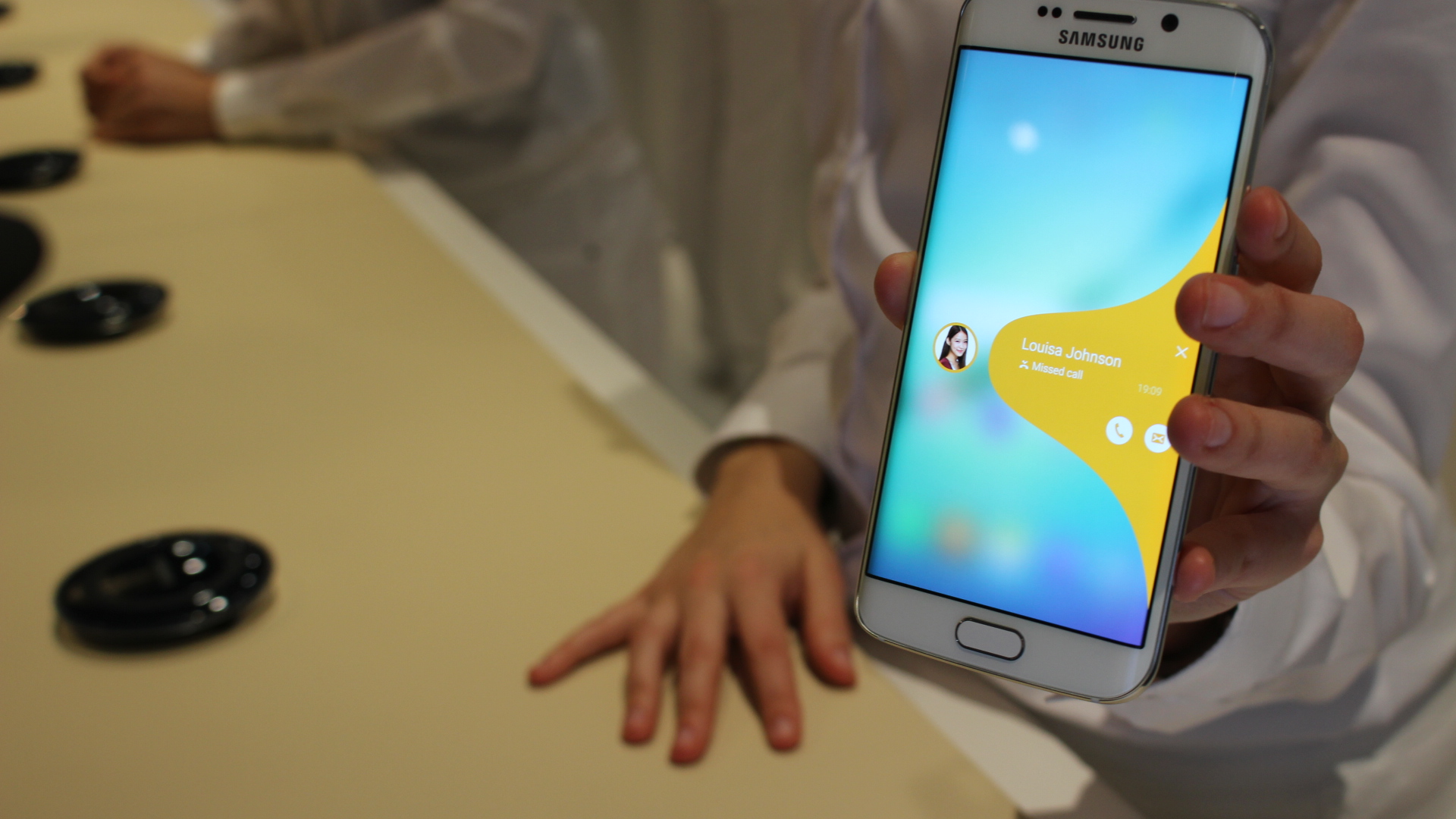 Samsung Galaxy S6 and S6 Edge – Display
The high-end smartphones from Samsung have always been praised for their screens and the use of S-AMOLED technology, which provides vivid colors, high contrast and high brightness.
This has not changed for Samsung Galaxy S6 and S6 Edge Galaxy. The Ultra HD resolution is impeccable and the slightly oversaturated colors have conquered me first.
The touchscreen reacts smoothly, even in curved areas of the Galaxy S6 Edge. Speaking of the screen curvature, it has a role of design more than a functional role. Unlike the Galaxy Note 4 Edge, where the edge displays notifications and can be used to open various applications, for the Edge 6 it only draws attention with the colored lights when used to call someone.





























Samsung Galaxy S6 și S6 Edge – Conclusion
There are many who say that Samsung has copied Apple, and I'm not going to contradict them. But with the Galaxy S6 and S6 Edge, the South Koreans were able to copy exactly what was needed, and they also added a bit of asian "madness" here and there. The two phones will have a major impact on the market as they are offering a refined package of hardware and software.
Also Read: https://www.technobezz.com/lg-g-flex-2-a-smartphone-to-be-taken-seriously-hands-on/
---