As its reputation precedes, Samsung Galaxy S7 Edge is one of the smartphones that is tough to beat. Armed with
As its reputation precedes, Samsung Galaxy S7 Edge is one of the smartphones that is tough to beat. Armed with powerful features the phone is not only beautiful but also powerful. Although the S7 Edge is a wonderful phone there are some flaws in the device, however, we have brainstormed and collected for you some fixes for the issues that might crop up while using the device.
Read also- Samsung Galaxy S7 Common Problems And Their Solutions
List of problems and their solutions
Touch Screen and buttons are over sensitive:
Users of the S7 Edge are facing a problem with the touchscreen and the touch navigation buttons of the device. The touchscreen is overly sensitive that results in the unintentional launch of apps and other elements of the interface. There have been complaints of mistyping as well, hovering over a certain area of the device screen is more than enough to make a selection.
Solutions:
Mobile cases can impact the touchscreen sensitivity of a device. If you already have a case, try removing it and check whether the problem still persists. Some cases come with a raised bezel and a wide frame helping you to touch without hitting the screen by mistake. You might find it a good idea to buy the S7 Edge case to protect your device.
Besides protecting your screen from scratches a screen guard can also reduce the sensitivity of the screen.
Since there are many users who have complained of this problem, Samsung will knob down the screen sensitivity through a software update. You can go to Settings>System About device>Software update to check whether you have the latest version of TouchWiz.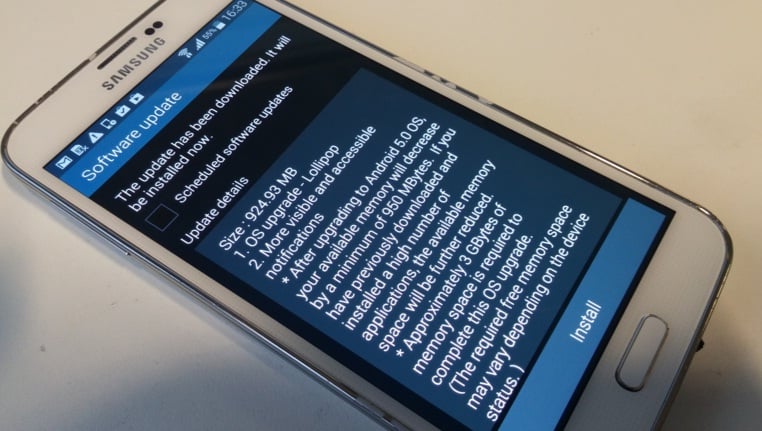 Bloatware:
The gauge of bloatware problem in the S7 Edge depends on which carrier you are with and how important the preinstalled apps on the device are to you. Samsung still trusts our good old Google and almost all the carriers often have many useless applications.
Solutions:
These preinstalled apps cannot be uninstalled, however, they can be disabled. You can easily do it from the app drawer, just tap on Edit on the right side and select the apps that you want to uninstall or disable. Alternatively, if you want to use an app again you can go to Settings > Device > Applications > Application manager and scroll over to the Disabled 
For a permanent solution, you will have to root your Galaxy S7 Edge. This is a risky step to take as this will trip the Samsung security service – KNOX, disabling Samsung Pay and some of its security features.
 Overheating:
Many users have reported of the device being uncomfortably warm at times. For the first couple of days, the phone tends to get hot for the simple reason that they tend to download and install a number of apps during this time. Once all the apps have been installed, try using the phone to feel whether the device is still overheating.
Solutions:
If your Galaxy S7 Edge is overheating while it's charging, try not to use the phone while it is plugged in for the charge. Another way is to go to Settings>Batteryand, click the Fast cable charging off.
Hold the Power and Volume down buttons together for a few seconds to restart the S7 Edge, this might fix the problem.
Sometimes a certain app might be the cause of this problem. You will notice that your device is hot even when you are not actively using the app, in such a situation go to Settings> Battery>Battery usage >More >Optimize battery usage and then select All apps. You need to toggle it on for each app. This will stop the apps from draining the battery, which produces heat.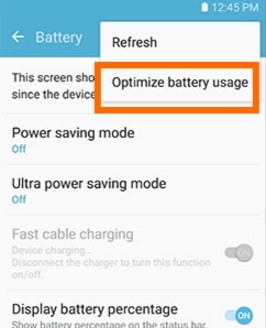 Another way to handle this situation is to turn off your device and then turn it on by holding Home, Volume up, and Power buttons together. Let go of the Power button once you see the Samsung logo and then as the Android logo comes on you can release the other two. You will get the Android System recovery menu on your screen, using the Volume down button highlight the wiping cache partition and finally, use the Power button to select it. Once the process is complete use the Power button to reboot your device.
Factory Resetting your device should be your last resort. You need to backup all your data before you apply this method to your S7 Edge. Go to Settings>Personal>Backup and reset > Factory data reset>Reset device, enter your PIN or password and tap Delete all. Try using your phone to check if the overheating problem still persists without installing all the apps back, so you can check if there is a certain app that is causing the phone to heat.
If the problem is still there you should contact your retailer, carrier or Samsung to get a replacement for your device.
No Adoptable Storage on the MicroSD Card:
Google added a feature known as the adoptable storage to Android 6.0 Marshmallow. The feature allows a MicroSD card to merge with the internal memory of the device. Samsung decided not to add this feature to Galaxy S7 Edge. If you still want to use your external memory and use the adoptable storage feature we have a way for you, the method was introduced by Paul O' Brien of MoDaCo.
Solution:
Mentioned below are step by step instructions to enable the adoptable storage feature:
To start back up all your data on your MicrcoSD card.
Download the Android SDK on your computer/Laptop, in order to use the Android Debug System.
You need to go to Settings>System>About device>Software info and tap on Build number to unlock Developer mode. Go back to Settings>System>Developer options and click USB debugging.
Now using the USB connect your Samsung Galaxy S7 Edge to your computer/laptop and then open the command prompt and type adb shell.
Type sm list-disks to get the disk ID for the MicroSD card. As per Paul's method, it was disk:179:160, but it will be different for your Samsung Galaxy S7 Edge.
Once you get the ID for the MicroSD card you can adopt it as storage, and the MicroSD card will show as merged in Settings>Storageon your device. Type sm partition disk: 179:160 private, don't forget to substitute your disk ID for disk:179:160.
If you want you can keep a part of your MicroSD card to transfer files and convert the rest for internal storage. Just type sm partition disk:179:160 mixed 50. But, once again, substitute disk:179:160for your disk ID.
Continuous MicroSD card pop-up:
A continuous pop-up saying "SD card, for transferring photos and media" with the option to Explore or Eject, has been an issue for many users of Samsung Galaxy S7 Edge. It seems to go away if swiped but returns whenever you reboot your device. Some users have experienced this message popping up on the screen, randomly.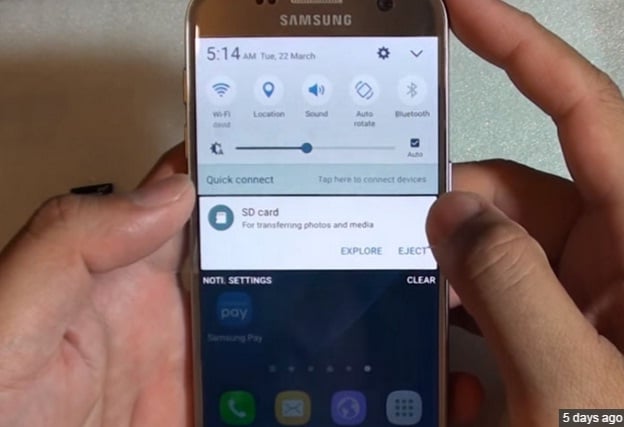 Solutions:
The pop-up seems to appear only if a MicroSD card has been mounted in the S7 Edge, explaining why it happens after a reboot. If you find the pop-up without rebooting the device then there might be a problem in the slot or your MicroSD card. What you can do here is turn your phone off and remove the MicroSD card, now place it back carefully in its slot and close the tray slowly.
Sometimes the MicroSD card that you are using might be a faulty one. Try using a different card.
There could be a hardware problem in your S7 Edge and if the problem persists and is annoying you, contact Samsung, your retailer or carrier.
 Stutter and Lag:
Samsung Galaxy S7 Edge is a fast phone with premium features, you can expect the phone to perform at lightning speed, however, quite a few people reported the lag and stutter in their devices. While many have claimed their devices to be running smoothly there are others who seem to blame the Samsung's TouchWiz user interface for the problem.
Solutions:
You should try deleting the cache partition. Use the Power Off to switch off your phone and then hold together the Home, Volume Up and the Power As the Samsung logo comes on the screen let go of the Power button, now wait till you see the Android logo and then release the other two buttons. You will now get the Android System recovery menu, use the Volume down key to highlight it and then select it using Power. Once it is over press the Power again and reboot the device.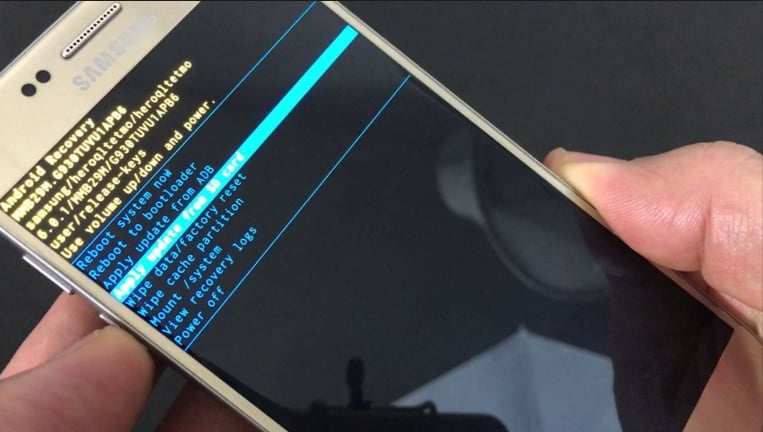 Your Galaxy S7 Edge might work better if you unlock the Developer Mode, you need to go to Settings > System >About device > Software info and toggle on Build number. You will get a message about being a developer. Go back to Settings > System > Developer options and scroll down to Windows animation scale, Animator duration scale and Transition animation scale. All are set to 1x by default, but you may choose to set them to 0.5x or keep it off.
If you are having trouble only while playing games, you need to check the Game Launcher in the app drawer and change the settings. Turn off the Power saving button if it is on or you can turn off the Games Tool and then see if there is a difference in your phone's performance.
If nothing works you can try the Factory Reset, but remember to backup all your data. Now start the drill, go to Settings>Personal>Backup and reset>Factory data reset>Reset device, enter your PIN or password and click Delete all. Use the phone without installing any apps immediately, check for the lag. While installing the apps and keep an eye for anything that you install causing a lag.
 Home and Multitasking Buttons Do not Function Properly:
We have had some users complaining about the Home and the Multitasking buttons not functioning properly. They seem to work fine but sometimes fail to respond. The Back button seems to work fine, but the Home and Recent Apps button suddenly fail to respond.
Solutions:
Restarting the device can work for some users; Try rebooting your S7 Edge by holding the Power and the Volume down buttons together.
There's a chance where an app might be causing this problem, go through all your apps, check for the recent ones that you have installed.
To confirm that a third-party app is the cause for this problem you should try the safe mode. You need to switch off your phone, now hold the Power button and once you see "SamsungGalaxyS7Edge" on the screen let go of the Power button and hold the Volume down Hold on to the button till you see safe mode the bottom-left corner of the device. After the process if your phone works fine a third-party app is the culprit. You should uninstall the apps one at a time or factory reset and then install them again cautiously. Reboot your device to come out of the safe mode.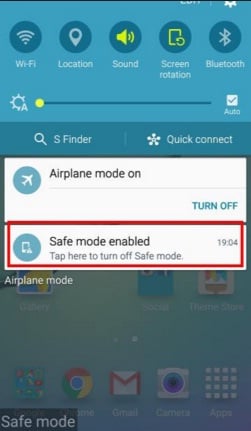 For a factory reset, backup all your data and once you are ready just go to Settings>Personal>Backup and reset>Factory data reset>Reset device, enter your PIN or password and toggle Delete all.
Samsung has squeezed its best technology in the Galaxy S7 Edge. These minor flaws shouldn't stop you from using this phone. Just use these simple tricks to fix any problems and enjoy the experience this smartphone is offering.
You may also read- Galaxy S6 Edge Common Problems And Solutions
---