Less than a year after the release of Samsung Galaxy S6 and Galaxy S6 Edge back in April 2015, Samsung reportedly
Less than a year after the release of Samsung Galaxy S6 and Galaxy S6 Edge back in April 2015, Samsung reportedly will release Galaxy S7 in early 2016. According to Etoday's report that was quoted by ibtimes:
"Samsung's upcoming Galaxy S7 smartphone will not be released until February 2016. Samsung will unveil the flagship Galaxy S7 in January 2016, followed by the official release in February."
This is the fastest release when it comes to the Galaxy S series. For your information, Samsung Galaxy S6 and S6 Edge were released exactly 1 year after Galaxy S5. We don't know why Samsung accelerates the launch of Galaxy S7? Does it because the sales of Samsung Galaxy S6 and S6 Edge was not really as successful? Or maybe it's because the competition getting tougher, especially with top-quality Chinese smartphones that are coming over, available at affordable prices?
Within 2015, Samsung has launched 4 flagship smartphones: Galaxy S6, Galaxy S6 Edge, Galaxy Note 5, and Galaxy S6 Edge Plus. It's seen contrast with 2014, where they only launched 2 flagships: Samsung Galaxy S5 and Galaxy Note 4. This is probably their effort to keep their position as one of the top smartphone leaders. By presenting the Galaxy S7 with very high specification, can attract the attention of smartphone users.
According to the rumor, Samsung is testing Galaxy S7 with codename project: Lucky, which will be using Samsung Exynos 8890 processor and there will be 2 variants: 3GB and 4GB of RAM. The processor's performance is super fast compared to all processors of today's smartphones. Here's the data, which shows the benchmark Geekbench version 3 for Exynos 8890 compared to A9 chip of iPhone 6s and 6s Plus.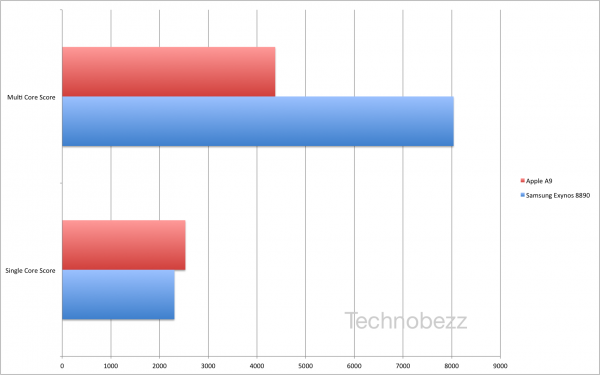 From the graphic, the Exynos 8890 has the highest score for multicore. But, if we take a look at that data more objectively, we can see the A9 processor technology is designed by Apple, it's seen from its single core, which gets a much better score than Exynos 8890. Besides, the multi core score of A9 was got from dual core processor @1.8GHz; while the Exynos multi core score was got from octa core @2.4GHz. Double performance of Samsung S7 processor is the fastest one we ever saw. If in February 2016, Samsung will release Galaxy S7, and this can become a smartphone with the fastest processor. It seems that Apple has to wait at least about the next 7 months to beat it with their iPhone 7.
We haven't got more information yet about the specification of Samsung Galaxy S7. Whether they will use 4K display or not? And the implementation of LPDDR4. I can't hardly wait to see it.
Source idigitaltimes
---