Samsung phone screen protectors are an essential accessory for anyone who wants to keep their device's screen free from scratches, cracks, or other damages. Installing a screen protector can be daunting, especially for those who have never done it before. However, with the right tools and techniques, it can be a straightforward process that anyone can do at home.
More About Screen Protectors
Importance of Screen Protectors
A screen protector is a thin material layer placed on top of the phone's screen. It acts as a barrier between the screen and any external objects that may come in contact with it. This includes keys, coins, and other objects that may scratch or crack the screen.
Screen protectors are essential for Samsung phones since they are typically made of glass. Glass screens are more susceptible to scratches and cracks than plastic screens. A screen protector can help prevent screen damage and extend the phone's life.
Types of Screen Protectors
There are several types of screen protectors available for Samsung phones. The most common types include:
Tempered Glass: This is the most popular type of screen protector. It is made of a thin glass layer designed to absorb impacts and prevent scratches. Tempered glass screen protectors are easy to install and provide excellent protection for the phone's screen.

TPU: TPU (thermoplastic polyurethane) is a type of plastic that is used to make screen protectors. TPU screen protectors are flexible and provide good protection against scratches and impacts. They are also easy to install and are usually less expensive than tempered glass screen protectors.

PET: PET (polyethylene terephthalate) is a type of plastic commonly used to make screen protectors. PET screen protectors are thin and lightweight, making them ideal for people who want a screen protector that is barely noticeable. They are also less expensive than tempered glass screen protectors.
Choosing the Right Screen Protector
Samsung Galaxy Compatibility
Samsung Galaxy devices come in various sizes and shapes, so it's crucial to choose a screen protector compatible with your specific device. Look for screen protectors that are designed specifically for your Samsung Galaxy model. This will ensure a perfect fit and maximum protection for your device.
Screen Protector Features
When selecting a screen protector for your Samsung phone, there are a few features to consider:
Material: Screen protectors can be made from various materials, including tempered glass, plastic, and hybrid materials. Tempered glass is the most popular material, providing the best protection against scratches and cracks.

HD Clarity: Look for a screen protector that offers HD clarity to preserve your Samsung Galaxy device's pixel density and aspect ratio.

Thickness: The thickness of a screen protector can vary, with thicker protectors offering more protection against impacts and scratches. However, thicker protectors may also be more visible on your device.

Anti-Fingerprint Coating: Some screen protectors have an anti-fingerprint coating to reduce smudges and fingerprints on your device.

Easy Installation: Look for a screen protector that is easy to install without any bubbles or dust trapped underneath.
Purchasing a Screen Protector
Online Shopping
Online shopping for a screen protector is convenient for those who prefer to shop from the comfort of their home. Many stores offer free shipping on orders over a certain amount, saving you money in the long run. Additionally, some stores offer Samsung rewards points or Samsung financing, which can be used toward future purchases.
When shopping online, it's important to double-check the compatibility of the screen protector with your specific Samsung phone model. Review reviews and check the return policy before making a purchase. Once the screen protector is added to your cart, double-check the shipping address before placing the order.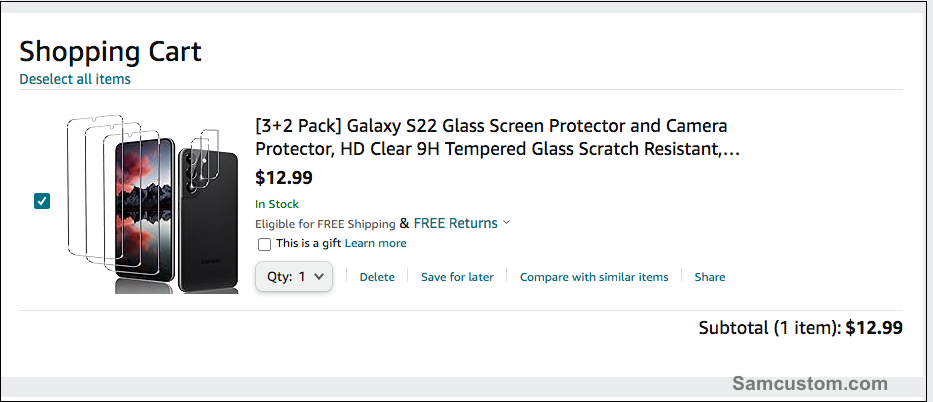 In-Store Purchase
In-store purchases suit those who prefer to see the product in person before purchasing. Many stores offer in-store pickup, so you can order the screen protector online and pick it up in-store at your convenience. This option also allows you to ask questions and get advice from store associates, which can be helpful if you're unsure which screen protector to choose.
When purchasing a screen protector in-store, check the compatibility with your specific Samsung phone model before purchasing. Some stores may offer installation services for an additional fee, which can save you time and hassle.
Installation Process
Preparation
Before beginning the installation process, make sure to clean the display thoroughly. Use a microfiber cloth to remove any smudges or fingerprints. Use a dust remover to eliminate any debris on the display if necessary.
Next, locate the screen protector and make sure you have all the necessary tools. Some screen protectors come with an applicator or squeegee to help with installation. Read the instructions or watch a video tutorial before beginning the application process.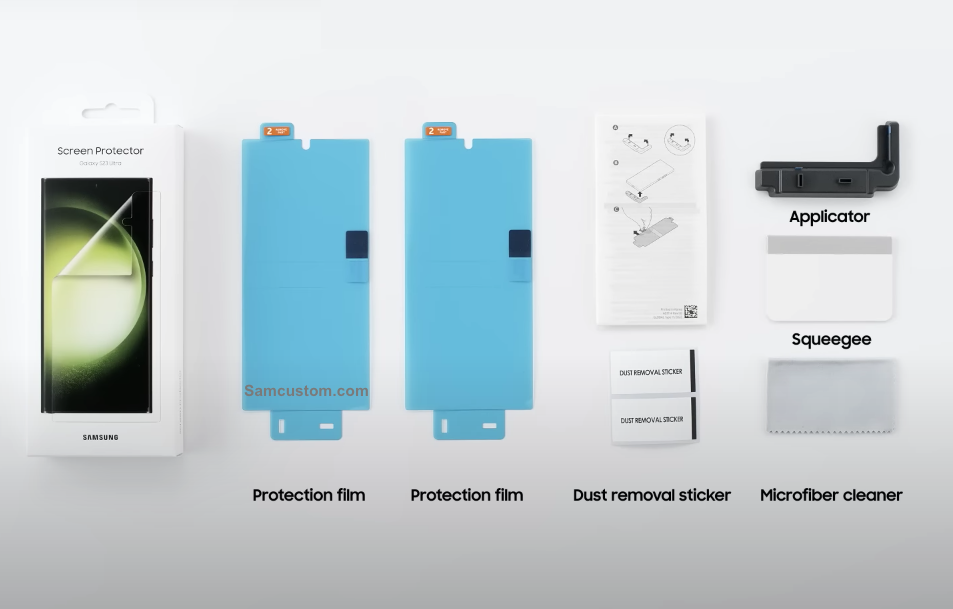 Application
When applying the screen protector, make sure to align it properly. Most screen protectors come with a sticky side that should be facing down towards the display. Use the applicator or squeegee to smooth out any bubbles or wrinkles.
It's important to note that some screen protectors may require some pressure to properly adhere to the display. Use caution when applying pressure, as applying too much force can damage the display.
Bubble Removal
If you notice any bubbles or wrinkles after applying the screen protector, don't panic. Most screen protectors can be easily removed and re-applied. Use the squeegee or applicator to gently push any bubbles toward the edge of the screen protector. Use a credit card or similar object to help remove any stubborn bubbles if necessary.
Re-Application
If you need to re-apply the screen protector, clean the display thoroughly before beginning the process again. Follow the same steps as before, ensuring that the screen protector is aligned properly and any bubbles or wrinkles are smoothed out.
Post Installation Care and Maintenance
After installing the screen protector on your Samsung phone, it is crucial to take good care of it to ensure it lasts as long as possible. Here are some tips for post-installation care and maintenance:
Screen Cleaning
To keep your screen protector clean, use a microfiber or soft, lint-free cloth to wipe away any smudges or fingerprints. Avoid harsh chemicals or abrasive materials, which can damage the protector or the phone screen.
If you notice any stubborn dirt or grime on the protector, use a small amount of rubbing alcohol or screen cleaning solution to clean it gently. Be sure to apply the solution to the cloth, not directly to the protector, and avoid getting any liquid in the phone's ports or buttons.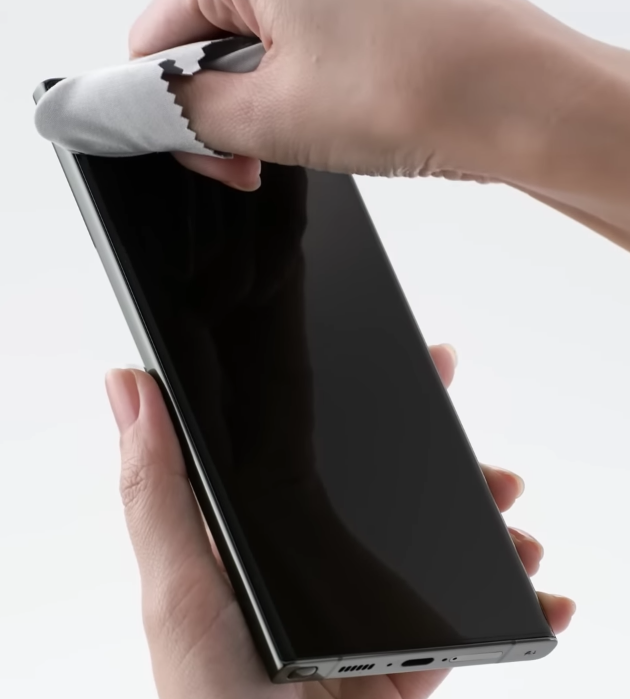 Protector Replacement
While screen protectors are designed to last for a long time, they may eventually need to be replaced. If you notice any lifting or peeling around the protector's edges, it may be time to replace it.
To replace the protector, carefully peel it off the phone screen, starting at one corner and working your way across. Be sure to clean the phone screen thoroughly before applying a new protector.
When replacing the protector, be sure to choose a high-quality product that is specifically designed for your Samsung phone model. Follow the installation instructions carefully to ensure a smooth and bubble-free application.
Samsung's Support and Services
Samsung Electronics America
Samsung Electronics America is a subsidiary of Samsung Electronics, a multinational electronics company headquartered in South Korea. Samsung Electronics America provides customer service and support to Samsung customers in the United States. Customers can contact Samsung Electronics America through their website or phone to get help with their Samsung devices.
Samsung Expert Assistance
Samsung Expert Assistance is a service that provides customers with access to Samsung experts who can help them with their Samsung devices. Samsung Expert Assistance is available through authorized specialists and Samsung Experience Stores. Customers can get help with device setup, troubleshooting, and more.
Samsung Care+ Device Protection
Samsung Care+ Device Protection is a device protection plan customers can purchase for their Samsung devices. Samsung Care+ covers accidental damage, such as drops and spills, and mechanical and electrical failures. Samsung Care+ also provides customers access to Samsung experts who can help them with their devices.
Samsung's Special Offers and Promotions
Samsung offers various special deals and promotions to customers who purchase their phones, including those who purchase their Galaxy Z series devices. These promotions are designed to provide customers with added value and convenience.
Trade-In Offers
One of the most popular promotions Samsung offers is its trade-in program. With this program, customers can trade in their old phones and receive a credit towards purchasing a new Samsung phone. The amount of credit offered depends on the value of the phone being traded in, the condition of the phone, and the model of the new Samsung phone being purchased.
Samsung's trade-in program is available both online and in-store. Customers who trade their phones online can use Samsung's mail-in program. This program allows customers to send their old phones to Samsung and receive a credit for purchasing a new phone.
Risk-Free Trials
Samsung offers a risk-free trial program for some phones, including their Galaxy Z series devices. This program allows customers to try out the phone for a certain period, usually around 14 days, and return it for a full refund if they are unsatisfied.
To take advantage of Samsung's risk-free trial program, customers must purchase the phone directly from Samsung or an authorized retailer. The phone must also be returned in its original condition with all of the original equipment and packaging.
It is important to note that the terms and conditions of Samsung's promotions may vary depending on the promotion and the country where it is offered. Customers should always read the terms and conditions carefully before taking advantage of any promotion.